Chibok abductions: Will Nigerian schoolgirls ever be freed?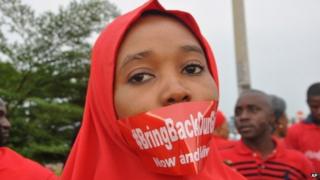 Six months since militant Islamist group Boko Haram sparked global outrage by abducting more than 200 girls from Chibok town in north-eastern Nigeria, the government has still failed to secure their release. The BBC's Will Ross spoke to the parents of some of the girls about their ordeal.
In the remote farming community of Chibok, the agony is only getting worse. The parents and other relatives of the missing 219 school girls complain that they have been left to rely on a diet of rumour from the media and a long list of unfulfilled promises from the politicians.
"The government must do more to get the girls back. Some parents are already dying. About six women have gone insane because they... can't endure the trauma," says Muhammad Yahaya, whose teenage daughter Yana was seized from the school by Boko Haram militants.
Over the last six months, beyond the pledges to rescue them, there have been no official statements whatsoever about what has happened to the girls in captivity, just plenty of speculation that they have been split into smaller groups and may be taken across the border into Chad, Cameroon or Niger.
It is the lack of information that has been the hardest to take for some of the relatives.
'Pray for us'
"We are in a desperate situation. Sometimes, when we go to the farm and remember what has happened we just start crying and can't work," Hannatu Dauda told the BBC.
She says she last heard from her abducted daughter, Saratu, when Boko Haram raided her boarding school in Chibok in April.
"When she called, we were all lying in the compound. She said: 'Some people have come to take us and they have rounded us up. Please pray for us'. And then her father and the rest of us kept praying," Mrs Dauda recalls.
"After some minutes she called again to say: 'Daddy they have taken all of us from school. We have been loaded onto a truck and we don't know where they are taking us to. Please tell my mummy to forgive me until we meet again'," she adds.
President Goodluck Jonathan and his government have often promised that all is being done to get the girls home but not everyone believes the politicians are focused on the Chibok girls and the wider conflict in north-eastern Nigeria.
"I think the government is more concerned about politics now. We don't hear about our girls any more. We only hear about political campaigns going on. That is what they are concerned about," Mr Yahaya told the BBC.
It is hard to find Nigerians who disagree with the suggestion that for politicians from all parties, the priority is firmly on the 2015 elections and the quest for power.
'Taken from river'
The military has had plenty to worry about in addition to the Chibok girls.
Since they were seized, the situation in the north-east has deteriorated dramatically and Boko Haram militants have forced entire communities to flee their homes repeatedly.
The jihadists have killed thousands and now control entire towns and villages. Chibok may have been the tragedy that made a huge international impact but so many families are still being destroyed by the conflict and the abductions have not stopped.
"We were in Gwoza [town] when the boys of Boko Haram struck - there was a lot of gunfire so my brother and my father ran up the mountain," remembers 14-year-old Abubakar Haruna, who now lives in a camp for thousands of displaced people in neighbouring Adamawa State.
"Later we learnt that my 18-year-old brother sneaked down to get some water from the river and was taken away by Boko Haram - I don't know what happened to him," he says, now separated from all his relatives.
Who are Boko Haram?
Founded in 2002
Initially focused on opposing Western education - Boko Haram means "Western education is forbidden" in the Hausa language
Launched military operations in 2009 to create Islamic state
Thousands killed, mostly in north-eastern Nigeria - also attacked police and UN headquarters in capital, Abuja
Some three million people affected
Declared terrorist group by US in 2013
Profile: Boko Haram leader Abubakar Shekau
Government ministers have been as reluctant to talk about the five-year conflict as they have been about the plight of the Chibok girls.
When the Bring Back Our Girls campaign became a global phenomenon weeks after the news of the abductions sank in, there was some pressure on the government and in Nigeria marches and sit-ins have continued ever since in an effort to demand answers and action.
"The chief of defence staff came out on May 24th and said: 'We know where the girls are'," notes activist Yemi Adamolekun.
"Then June, July, August, September and now we are in October and nothing. So you knew where they were in May, where are they now and what have you done about that?" she asks.
"If people don't keep talking about the issue, it goes out of people's consciousness. There is a lot more going on in the world, there is a lot more going on in Nigeria. But we need to keep it on the front burner that these girls are still missing and that hasn't changed," Ms Adamolekun told the BBC.
In July, many of the Chibok parents were brought to Abuja to meet President Jonathan. They were given cash and more promises.
"We were there with the governor of Borno state and President Goodluck Jonathan promised us that we would soon be reunited with our children by the end of August. August has passed, September as well and we have not heard anything about them," said Mr Yahaya.