Pistorius sentence: Prison concerns and accusations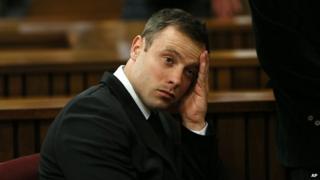 We got glimpses in court on Thursday both of the prison life Oscar Pistorius can expect if Judge Masipa chooses a custodial sentence for him, and of the rather abrasive characters who once were part of his social circle.
Called by the prosecution to give evidence, the acting director of South Africa's prison service, Zach Modise, acknowledged the presence of gangs and violence in the country's jails but declared that their facilities were world class.
He insisted that reports of increased torture and abuse were merely "allegations" and that Oscar Pistorius would be cared for humanely. He mentioned the special care being offered to British murder suspect Shrien Dewani in a one-man cell in the hospital wing of Pretoria's Central Prison.
It's not easy to imagine Judge Masipa refusing to send Pistorius to prison on the basis that it would be unsafe for him - a ruling that would set an awkward precedent for South Africa's entire judicial system.
But the defence sought guarantees that the athlete would not be put in the main prison where, it claimed, gang leaders had already threatened to attack him.
In recent days the public gallery in courtroom D has seen an influx of conspicuously muscular men who have sat close to Reeva Steenkamp's family. Marc Batchelor is a former footballer and debt collector who has clashed with Pistorius in the past. Mikey Schultz is a self-confessed killer and former boxer. Mark Strydom is, according to legal sources, on parole after serving time for attempted murder and assault.
At one point Mr Schultz and Mr Strydom sat, unexpectedly, on the bench reserved for the Pistorius family, and according to the defendant's brother Carl, Mr Schultz mouthed an obscenity at his sister Aimee, leaving her in tears. Mr Schultz told me later that he had done no such thing but agreed with Mr Strydom and Mr Batchelor that, in his opinion, Oscar Pistorius was "a murderer" who was "getting off lightly".
Reeva Steenkamp's cousin, Kim Martin, earlier appeared to urge the judge to give Pistorius a significant prison sentence, saying she did not believe his apologies to her family; she was still "fearful" of him, and that he "needs to pay for what he has done".
Court officials had initially expected Judge Masipa to hand down her sentence on Friday, but Prosecutor Gerrie Nel's lengthy cross-examinations appear to have changed that schedule.
Various court sources now believe Pistorius will finally learn his fate next Tuesday after prosecution and defence make their final arguments on Friday.