Mozambique opposition Renamo rejects election results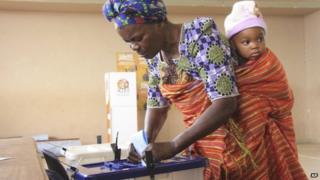 Mozambique's main opposition party has rejected the results of presidential and parliamentary elections, saying they were riddled with irregularities.
Renamo spokesman Antonio Muchanga told the BBC that the results in Wednesday's polls should be annulled.
With some 20% of the votes counted, the candidate from the ruling Frelimo party, Filipe Nyusi, has 63%, ahead of Renamo's Afonso Dhlakama (30%).
The two parties fought a long civil war which ended in 1992.
The conflict ended after an estimated one million people died. Renamo took up arms again in 2013 but in August agreed a ceasefire.
Fiercely contested
On Wednesday night there were sporadic cases of violence at counting centres in some parts of the country, with police using tear gas to disperse rioting youths, the BBC's Emmanuel Igunza in the capital Maputo reports.
But local and international observers say the incidents will not affect the final outcome of the elections.
Frelimo has dominated politics since independence from Portugal in 1975, but Renamo's Afonso Dhlakama came out of hiding to run for the presidency.
Mr Dhlakama's last-minute entry made this the most fiercely contested election since independence, our correspondent says.
More than 10.7 million people were registered to vote in the country's 11 provinces, as well as more than 89,500 Mozambicans in the diaspora.
Voting was extended at some polling stations amid reports of a large turnout.
Mozambique is one of Africa's fastest-growing economies, with billions of dollars worth of natural resources.
But the country remains one of the world's poorest.
---
The presidential candidates
Filipe Nyusi (Frelimo) is a former defence minister, running on a "continuity ticket". His main campaign pledge is to mechanise the underdeveloped agricultural sector, redistribute wealth and tackle mass youth unemployment
Afonso Dhlakama (Renamo) is a veteran opposition leader who joined the presidential race at the last minute after emerging from hiding in the Gorongosa mountains of central Mozambique in September to sign a peace deal with Mr Guebeza
Daviz Simango (MDM) only formed his party in 2009 after breaking away from Renamo
---