Letter from Africa: Silencing Kenya's police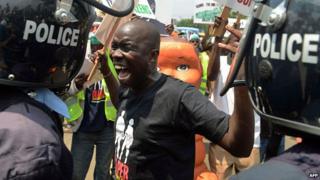 In our series of letters from African journalists, Joseph Warungu considers the consequences of a recent decision by Kenya's police chief to bar his senior officers from making public statements.
When David Kimaiyo, Kenya's inspector general of police, ordered his county and divisional police heads to stop issuing any information to journalists at the scene of a crime, many Kenyans immediately jumped to the conclusion that it was aimed at stopping police comedy.
One local FM station dedicated a whole programme to a tongue-in-cheek appeal for the police boss to reconsider his decision, saying it will deprive Kenyans of cheap entertainment.
Although they are usually accused of acts of brutality against civilians, the police in Kenya can be hilarious.
Sometimes it is because they are quick to copy cliched expressions from the media with comical results.
The most famous example is of a police officer, who spoke to the media describing how an accident had happened.
"The brakes of the vehicle failed, causing a head-on collision," said the policeman, adding, "the driver was burned to recognition."
It was hard for Kenyans to imagine how the driver must have looked before the accident if the crash left him burnt to recognition.
The poor officer obviously meant that the driver was burnt beyond recognition.
In other instances local police bosses describing serious events leave their audiences in stitches when their mother tongue gets in the way of English pronunciation.
One police officer describing a terrible attack in western Kenya, left many people confused when he said this on national television news: "When he entered the house, he started chooting his family members.
"He chot the wife on the thigh. Then he went ahead and chot the daughter, age 21 years on the chest, and proceeded to choot himself on the head.
"Those who were injured were rushed to Kakamega Provincial General Hospital. The doctors were trying to fight for their lives, but unfortunately we lost the two of them."
The police officer was describing a shooting incident in which three people died.
But it was not clear at first whether it was the doctors' lives that were actually in danger.
These are just a few of the many examples of police miscommunication which many Kenyans felt was the reason for the inspector general of police to declare that his officers must brief the media through the official police spokespersons.
No joking matter
However, the head of the Kenyan police had far more serious reasons for his decision, which are to do with portraying a united police force.
"It sends a very bad image of the national police service when senior officers are captured in the media differing over the approach of dispensing any operational matter," he said.
And to show his orders were no joking matter, the inspector general concluded his directive with this warning: "I will simply have the antagonising officers moved from that particular station and allow others to take over their responsibilities, and the country will move on."
Well the country has not quite moved on.
A number of people have criticised the decision by the police boss to centralise his public communication.
Some argue that the move is retrogressive, as it will be difficult for the official spokesperson at police headquarters in the capital, Nairobi, to comment on each and every crime happening in all parts of the country.
Others say it will hamper the work of the journalists who have established close relationships with local police chiefs who supply them with timely information.
However, a much more serious concern is the lack of harmony among different elements of the security services in Kenya which has on occasion resulted in conflict.
Lively spectacle
The debate over how the police communicate with the public via the media has brought memories of other famously odd or biting statements by public figures in Kenya.
Years back before he became president, the then-ruling Kanu government made laughable attempts to rig the election of Mwai Kibaki as an MP in his Othaya constituency in central Kenya, where he was hugely popular.
Mr Kibaki, now retired, responded with this statement: "Even rigging requires a bit of intelligence."
Last year when a secondary school teacher, Mohammed Abduba Dida, decided to run for president, he turned the campaign into a lively spectacle with his logic.
Asked for his views on abortion during a live presidential TV debate, Mr Dida said: "I don't like wrestling with God.
"If God wants life, let it be. God has a way of balancing life. Some are born, others die".
Former President Daniel arap Moi usually sent the blood pressure of his press aides rising towards the sky each time he deviated from his prepared speech.
There was no telling what would fall out of his mouth.
In one instance he provoked fury in Kenya when he said "women have little brains".
But it is the police that give Kenyans their steady diet of words sometimes mangled of meaning.
With the inspector general's directive to streamline police communication now in force, they will have to find an alternative source of amusement if the officers truly strictly stay on message.
If you would like to comment on Joseph Warungu's article, please do so below.