Nigeria Boko Haram blamed for raids despite truce claim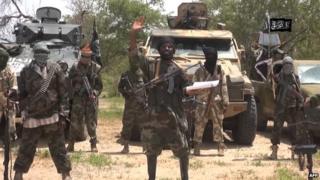 Suspected militant Islamists have shot and slaughtered people in three villages in north-east Nigeria, despite government claims that it had agreed a truce with them, residents say.
Boko Haram fighters raided two villages on Saturday, and raised their flag in a third, residents said.
The government said it would continue negotiating with Boko Haram, despite the alleged breach of the truce.
It hopes the group will this week free more than 200 girls it seized in April.
Boko Haram has not commented on the announcement made on Friday that a truce had been agreed, and that the militants would release the schoolgirls abducted from the remote north-eastern town of Chibok.
'Promise honoured'
Boko Haram is reportedly represented in the talks, taking place in neighbouring Chad, by Danladi Ahmadu.
However, Mr Ahmadu was "bogus" and an "imposter", said Ahmad Salkida, a Nigerian journalist with good contacts in Boko Haram.
The abduction of the girls sparked a global campaign to pressure the government to secure their release.
Government negotiator Hassan Tukur said Boko Haram had "honoured its first promise" by releasing 27 Cameroonian and Chinese nationals on 11 October, after capturing them in separate raids in May and July, Nigeria's privately owned This Day newspaper reports.
"Since it delivered on its promise to Cameroon, we expect Boko Haram to deliver on the release of the Chibok girls and the cessation of hostilities in north-eastern Nigeria," he said.
Chad's President Idris Deby is mediating between the two sides, Nigeria's government says.
'Friend killed'
However, Saturday's attacks have caused many Nigerians to doubt whether the government has really negotiated a truce with Boko Haram, especially as no statement has been issued by its leader Abubakar Shekau, says BBC Nigeria analyst Bilkisu Babangida.
Who are Boko Haram?
Founded in 2002
Initially focused on opposing Western education - Boko Haram means "Western education is forbidden" in the Hausa language
Launched military operations in 2009 to create Islamic state
Thousands killed, mostly in north-eastern Nigeria - also attacked police and UN headquarters in capital, Abuja
Some three million people affected
Declared terrorist group by US in 2013
Profile: Boko Haram leader Abubakar Shekau
Will 'truce' with Boko Haram free Chibok girls?
Boko Haram fighters burnt homes and killed many people during raids on the villages of Grata and Pina in Adamawa state, a resident told BBC Hausa.
As they marched from Grata to Pina, they also slit the throats of villagers whom they came across, he added.
In a separate attack, the militants raided Abadam village in neighbouring Borno state, and raised their flag over the village, a resident who fled the area told the BBC.
His friend was among those who had been killed by the militants, the resident said.
Many people had fled across the border to Niger, he added.
Mr Tukur said the government was trying to "verify where the attacks are coming from".
"As you know, it is difficult to have a ceasefire in an organisation that has many members and cells/units," he is quoted by This Day as saying.
In May 2013, President Goodluck Jonathan imposed a state of emergency in the northern states of Borno, Yobe and Adamawa, vowing to crush the Islamist insurgency.
But Boko Haram has increased its attacks this year.
The group promotes a version of Islam which makes it "haram", or forbidden, for Muslims to take part in any political or social activity associated with Western society.
It frequently attacks schools and colleges, which it sees as a symbol of Western culture.