Botswana votes in closest poll in 48 years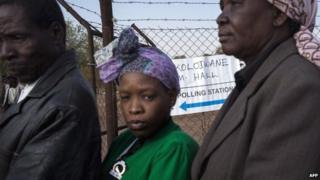 Voters are going to the polls in Botswana in what is expected to be the closest general elections in the world's largest diamond producer.
President Ian Khama's Botswana Democratic Party (BDP), which has governed since independence in 1966, is expected to win a reduced majority.
But it has been battling to gain support in urban areas where opposition parties have made recent inroads.
Botswana is seen as one of Africa's most stable and democratic countries.
The sparsely populated country also protects some of Africa's largest areas of wilderness.
There are three parties competing to win over the 824,000 registered voters who will elect 57 members of parliament.
The MPs then choose the leader, with President Khama, the son of the country's first president, likely to get a second term in office.
A year ago, the global mining giant De Beers relocated its auction rooms to Botswana, meaning rough diamonds are now cut, polished and sold in the country - not just mined.
But according to the African Development Bank, despite Botswana being a middle-income country, it continues to grapple with unequal distribution of wealth, high levels of poverty, unemployment and HIV.
The unemployment rate stands at 17.8% and it has an HIV/Aids prevalence of 23.4%, the bank said.
A survey this month by the research group Afrobarometer reported that 58% of people in Botswana considered unemployment the most important problem facing the country.