Mozambique polls: Frelimo's Nyusi to be next president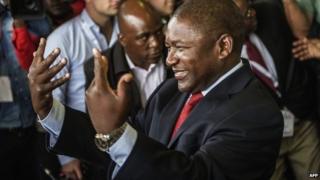 Mozambique's next president will be Filipe Nyusi from the governing Frelimo party, provisional results from last week's general election show.
He won 57% of the vote, with the main opposition Renamo party's Afonso Dhlakama coming second with 36%.
Frelimo also maintained its majority in the 250-seat parliament, but has lost 49 seats compared to 2009.
Renamo, which fought a long civil war with Frelimo that ended in 1992, has already rejected the results.
It alleges that the vote was riddled with widespread irregularities.
An estimated one million people died in the civil war. Renamo took up arms again in 2013 but in August agreed a ceasefire.
---
Poll in numbers
Presidential results:
Filipe Nyusi (Frelimo): 57%
Afonso Dhlakama (Renamo): 36%
Daviz Simango (MDM): 6.5%
Parliamentary results:
Frelimo: 57%
Renamo: 34%
MDM: 9%
---
The results need to be ratified by the Constitutional Court before they become official.
Frelimo has dominated politics since independence from Portugal in 1975, but Mr Dhlakama came out of hiding to run for the presidency.
Earlier this week, an election official in the central city of Beira was arrested after trying to fiddle a list of results in favour of Frelimo.
Beira is the stronghold of the Mozambique Democratic Movement's Daviz Simango, who took 6.5% of the presidential vote.
Mozambique is one of Africa's fastest-growing economies, with billions of dollars worth of natural resources.
But the country remains one of the world's poorest.