Twitter Q&A: Milton Nkosi answers questions on the killing of Senzo Meyiwa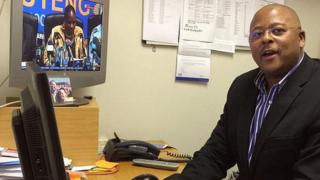 South African police have launched a major manhunt to find the killers of national football captain Senzo Meyiwa, shot dead by suspected burglars.
They have offered a reward of 250,000 rand (£14,000; $23,000) for information about the attack.
His death highlighted once again the country's extreme rate of gun crime. More than 17,000 people were murdered between April 2013 and March 2014 in South Africa.
In a live Twitter Q&A, the BBC's Johannesburg correspondent Milton Nkosi, answered questions on gun crime and policing in South Africa. He also responded to questions on how the loss of Senzo Meyiwa would affect football in South Africa?
This is an edited version of the session:
Question from @spiritchaserSA in Cape Town, South Africa: Why is the death of #SenzoMeyiwa any different to those who die everyday from the same thing?
Milton answers: It is not different from many other deaths but he was a national hero who carried the hopes of millions of South Africans.
Question from Ben Kondowe by email: Why is the government not serious about the issue of gun crime?
Milton replies: The government is doing everything it can to fix gun crime problems but we are dealing with the legacy of Apartheid here.
Ben Kondowe also asked: Where are the police in South Africa?
Milton adds: There are 157,000 police officers for 52 million people. Clearly the problem lies with the community and not the police.
Riche Juif Joel emails a question: How can they stop killing each other, when sentences are as short as five years in jail?
Miltons says: True, if you use the Pistorius case as an example, but there are many more inmates who are serving longer sentences behind bars.
Question from Andersan by email: Is the South Africa government serious about dealing with senseless crime? Farmers are murdered all the time yet they turn a blind eye?
Milton answers: One farm murder, is one too many. The government must do more to protect all citizens.
Question from @DJReady999: What does this mean for the South African national team? Will Khune be the goalkeeper again?
Milton replies: As far as I know Khune is off the national team because of injury. No substitution has been announced since this tragedy.
Question by @Mr_Ndilula_: Do you believe that gun laws in South Africa will be re-visited after the murder of #SenzoMeyiwa?
Milton answers: I certainly hope so but that is what the government says each time there is a tragedy such as this one.
Dr. Moh emails a question: It's scary to live in South Africa, we live in constant fear. Will the state make an example of Senzo's killers?
Milton says: Sorry to hear you are living in fear. That is not the case for all citizens. I hope the government makes an example of ALL murderers.
Question by Niall Macdonald on email: Why does the South African government not learn from the old countries? Ban guns and adopt current UK legislation.
Milton replies: Agree, South Africa should learn from mature democracies by banning guns, but that is easier said than done, example gun crime in the USA.
Sanj Laloo emails a question: The death of a talented sporting hero is a shock. Will my family be safe if I come back to South Africa to live?
Milton answers: Sanj, please, come back, South Africa is a beautiful country. I lived in India and I came back. I love my family too.
Question from an anonymous emailer: Is the motive behind the killing really the cell phone? How much was Senzo's cell phone worth?
Milton replies: I don't know the value of the phone. All I know is what the police said. If anyone has any info they should tell the police.
Question by @Taylor_manda: Isn't crime in your country scaring high profile players touring South Africa?
Milton says: Yes and no. South Africa successfully hosted the 2010 World Cup with these types of headlines.
Morris Bandini emails a question: Why does it take the death of celebrities to put the politicians on the stand with these crimes?
Milton replies: True. It shouldn't take a celebrity. Every single life is just as important as #SenzoMeyiwa was.
Question by @IamArsenalAFC in London: The only way to reduce crime is to promote education and reduce poverty. What's being done?
Milton answers: Great question! A lot is being done to educate, but it is much more complex than just poverty.
Question from @beckylou28: South Africa seems to be capturing headlines for the wrong reasons recently. What's the best thing about the country?
Milton replies: Fantastic question and our final one for this evening. The people of South Africa are the warmest in the whole continent.
He also adds: They are forgiving, example Nelson Mandela. The women are beautiful, the men handsome and the wildlife and landscape are amazing.