Senzo Meyiwa shooting: Suspect images released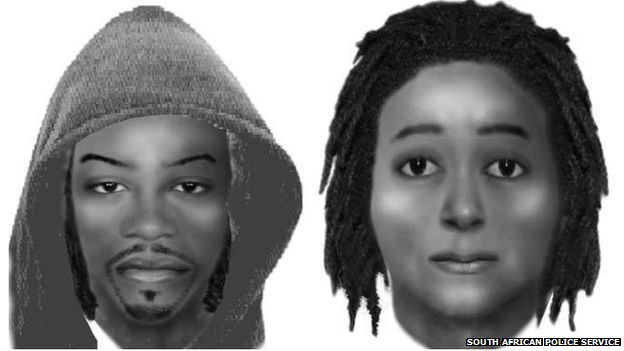 South African police have released composite images of two men suspected of killing national football captain Senzo Meyiwa.
Meyiwa, 27, was reportedly shot on Sunday after burglars entered his girlfriend's house.
Police have offered a reward of 250,000 rand (£14,000; $23,000) for information about the attack.
Meyiwa's death has once again highlighted the high rates of violent crime in South Africa.
Intruders entered the house in Vosloorus, south of Johannesburg, at around 20:00 (18:00 GMT) on Sunday.
Before releasing the pictures, police had described two of the suspects: one said to be tall, dark-skinned and slender with dreadlocks; the other was said to be short, dark-skinned and well-built.
The men demanded mobile phones and valuables while a third man remained outside.
National Police Commissioner Riah Phiyega told a press conference that Meyiwa was then shot once in the upper body as he moved towards the door. The three men then fled.
The footballer was declared dead on arrival at the hospital. His funeral is expected to take place on Saturday.
South Africa's president, Jacob Zuma, has led tributes to the football captain.
"We mourn the death of this young footballer and team leader whose life has been taken away at the prime of his career," Mr Zuma said.
Team-mates have also expressed their grief.
South Africa midfielder Dean Furman told the BBC Meyiwa was "just the nicest guy you could wish to meet".
His killing has sparked outrage about crime in South Africa.
The shock was summed up by Senzo Meyiwa's team-mate Tsepo Masilela, who tweeted: "How do you kill someone for a cellphone?"
Between April 2013 and March 2014, more than 17,000 people were murdered in South Africa, an increase of about 5% over the previous year, according to police figures.
However, overall murder rates are lower than during the high points of the apartheid years.