Ebola crisis: South African tycoon Motsepe donates $1m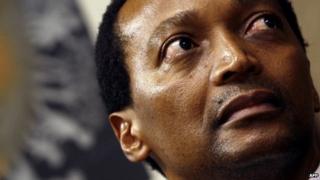 South Africa's first black billionaire, Patrice Motsepe, has donated $1m (£620,000) to Guinea to help the country fight Ebola.
The mining magnate said he hoped it would assist with clinical management, social mobilisation and other key steps in controlling the deadly virus.
Nearly 5,000 people have died in the outbreak which has mainly affected Guinea, Liberia and Sierra Leone.
His donation was announced as the US praised the international aid effort.
America's UN envoy Samantha Power, on a visit to the region, praised the efforts of Ebola-hit nations and foreign donors and urged them to continue to help.
She will continue her visit on Wednesday to Ghana, where the UN has set up its Ebola crisis hub.
In other developments:
Nine Kenyans who were stranded in Liberia when Kenyan Airways suspended flights to the region have been repatriated
In UK, an umbrella of charities - Disasters Emergency Committee - is to launch an Ebola appeal
Australia has approved a visa ban on the main affected countries.
'Far-reaching consequences'
Mr Motsepe, who is chairman of the mining company African Rainbow Minerals and has set up the charitable Motsepe Foundation, urged other Africans in business to continue making contributions to fight Ebola.
"The impact of the disease has potentially far-reaching consequences for West Africa, Africa and the world," he said in a statement on Tuesday.
"It is a global issue which requires the global community to work together and bring an end to the disease."
Mr Motsepe, the richest black man in South Africa, made the commitment a few weeks ago but the necessary regulatory approvals were only obtained last week.
Last year, he became the first African to announce that he was donating half of the income generated from his assets to charity under the Bill Gates and Warren Buffett Giving Pledge initiative.
---
Ebola virus disease (EVD)
Symptoms include high fever, bleeding and central nervous system damage
Spread by body fluids, such as blood and saliva
Fatality rate can reach 90% - but current outbreak has mortality rate of about 70%
No proven vaccine or cure
Fruit bats, a delicacy for some West Africans, are considered to be virus's natural host
---
Have you been affected by the issues raised in this article? You can share your experience by emailing haveyoursay@bbc.co.uk