Obituary: President Michael Sata, Zambia's 'King Cobra'
By Penny Dale
BBC's former Zambia correspondent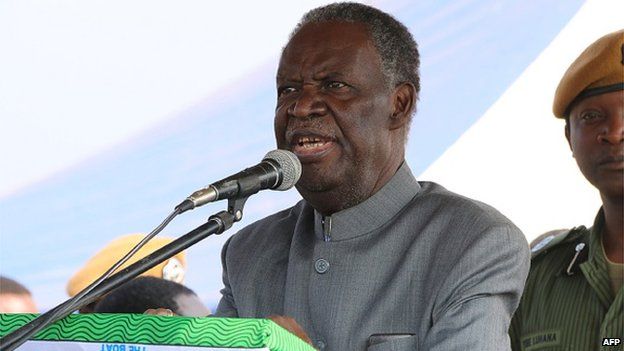 Michael Chilufya Sata, Zambia's fifth president who has died in London at the age of 77, will be remembered with equal affection and derision as "King Cobra".
Gravelly-voiced as a result of years of chain-smoking, he was a seasoned and astute politician.
Some Zambians loved him, others loathed him - but in his prime, Mr Sata was a charismatic and witty speaker.
"I would rather go to prison on behalf of the people of Zambia than keep quiet," he once said.
He once belonged to the United National Independence Party (Unip), then led by Kenneth Kaunda, Zambia's first president, but later switched to the Movement for Multiparty Democracy (MMD).
When the MMD thwarted his presidential ambitions, he broke away to form the Patriotic Front (PF) in 2001.
Mr Sata finally achieved his life-long ambition to be president at his fourth attempt, winning elections in 2011 and unseating the incumbent Rupiah Banda.
The irony is that after all his efforts, he was not able to finish his first term.
Instead, he became the second Zambian president to die in office.
And like Levy Mwanawasa, who passed away in 2008, Mr Sata died abroad.
Some 50 years after Zambia became independent from British rule, it was a sad indictment of the country's hospitals - but also, the lack of faith politicians had in them.
In fact, Mr Sata was not even present in the country when Zambia turned 50 on 24 October.
For some months in 2014 he had not been seen in public due to ill health.
His last public appearance was in September when he managed to briefly attend the opening of parliament in Lusaka.
By then his voice was weak and thin but he retained his jocular manner, and joked "I am not dead".
Born in 1937, Mr Sata grew up a devout Catholic and worked as a police officer, railway man and trade unionist during colonial rule.
After independence, he spent time in London as a railway porter, and then back in Zambia he worked for a taxidermist company.
It was in the 1980s that he rose to prominence.
As governor of Lusaka, he quickly earned a reputation for hard work. Later, he became known as a populist man of action at the country's health ministry.
But he was also known for his authoritarian tendencies.
As he worked his way up through Zambia's rough and tumble political scene, he quickly gained a reputation for abrasiveness.
During his days under President Frederick Chiluba as minister without portfolio, Mr Sata himself admitted that he "was the minister for the MMD", his party at the time.
Critics said that his sharp tongue was unsuited to the refined diplomacy of international politics - and that his nickname of "King Cobra" was well-deserved.
When Mr Sata was elected in 2011, he looked as if he would keep his election promises to tackle corruption and create jobs and prosperity.
But three years into his five-year term, his administration was tarnished by a crackdown on the political opposition.
His declining health was mirrored by the declining economy, and he left behind an impoverished country with one of the lowest life expectancies in the world.