Nigeria's Goodluck Jonathan to run again in elections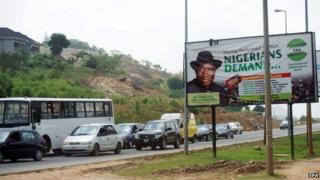 Nigerian President Goodluck Jonathan has confirmed he will run again in February's elections, his office has said.
Until now he had refused to confirm his candidacy for re-election as president.
The announcement comes as he faces mounting criticism over his handling of the Boko Haram insurgency and its abduction of more than 200 schoolgirls.
The militants are reported to have seized control of the north-eastern town of Mubi.
The government announced a ceasefire agreement with Boko Haram earlier this month that was supposed to lead to the release of the schoolgirls. Thousands of people have fled from the rebels' north-eastern stronghold throughout the course of the conflict.
Local residents told the BBC the militants had raised their flag over Mubi and blocked the main access roads.
Earlier there were reports of heavy gunfire and military fighter jets overhead. Mubi is a commercial hub and the second largest town in Adamawa state.
Residents of the town began to flee following reports that the militants were approaching - soldiers were also reported to have fled.
"There is virtually not a single resident left in Mubi. Everybody has left to save their lives," local resident Habu Saidu told the AFP news agency as he made his way through the bush.
"People in thousands left the town on foot because all roads have been blocked by soldiers and it is not possible to leave by road."
Mubi has in the past witnessed violence attributed to militant Islamist group.
The Nigerian government says it has been talking to Boko Haram in neighbouring Chad with both parties agreeing on a ceasefire.
But even after the announcement was made over a week ago, the clashes continued - raising questions about the validity of the truce.
Rampant corruption
Being the incumbent from a well-financed party, President Jonathan is expected to be the main contender during next February's elections.
The BBC's Tomi Oladipo in Lagos says that the president is not only being accused of not doing enough to win the release of the girls - he is also blamed for failing to curb rampant corruption in government and state institutions.
In addition there have been several high-profile defections from the ruling party, including most recently the speaker of the House of Representatives.
The ceasefire agreement with Boko Haram is expected to boost Mr Jonathan's chances if it results in the release of the schoolgirls.
The opposition All Progressives Congress will not select its candidate until early December. The former military ruler Muhammadu Buhari is considered the favourite to lead the opposition challenge for the top job in Africa's largest economy..
Who are Boko Haram?
Founded in 2002
Initially focused on opposing Western education - Boko Haram means "Western education is forbidden" in the Hausa language
Launched military operations in 2009 to create Islamic state
Thousands killed, mostly in north-eastern Nigeria - also attacked police and UN headquarters in capital, Abuja
Some three million people affected
Declared terrorist group by US in 2013