Zambian President Guy Scott in row over Edgar Lungu sacking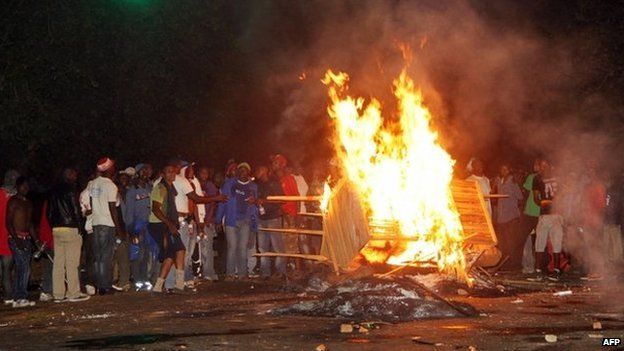 Zambia's interim President Guy Scott has reinstated defence minister and presidential hopeful, Edgar Lungu, to a powerful governing party post.
Mr Lungu had said his sacking was illegal and highly provocative at a time of mourning for President Michael Sata, who died last week.
Correspondents say a power struggle has been unfolding in the ruling Patriotic Front (PF) over the succession.
Mr Scott said all campaigning was banned until after Mr Sata's burial.
The defence minister had said Mr Scott had broken a "cultural taboo" by dismissing him as the PF's secretary-general before the funeral.
Mr Scott became acting leader - Zambia's first white head of state - in accordance with the country's constitution, which requires the vice-president to assume presidential duties until elections take place within 90 days.
As the constitution stands, he is ineligible to run for president in the elections because it bars candidates whose parents were not born in Zambia.
'Inflammatory statements'
The BBC's Meluse Kapatamoyo in the capital, Lusaka, says the initial sacking surprised many people as Mr Scott himself had urged people not to play politics while the nation mourns Mr Sata.
Often disparagingly referred to as the "ceremonial vice-president"
He was born in 1944 in what was then Northern Rhodesia after father emigrated from Glasgow to work as a doctor on the railways
A Cambridge-trained economist, he entered politics in 1990, joining the MMD which won the first multiparty elections the next year
As agricultural minister he oversaw the recovery from a devastating drought in 1992/93
He joined Michael Sata's Patriotic Front (PF) in 2001
Appointed vice-president in September 2011 after the PF's election victory
As his parents were not born in Zambia, a constitutional clause requiring the president to be a "third generation" Zambian may nullify any attempt to run for president
A small group of supporters of the PF party burnt barricades in Lusaka on Monday evening to protest against Mr Lungu's dismissal, our reporter says.
Many Zambians believe the dismissal was intended to block Mr Lungu's chances of becoming the PF's presidential candidate in upcoming elections, she says.
Mr Scott, 70, is seen to be allied with Mr Lungu's rival Wynter Kabimba, the ex-justice minister.
In reinstating Mr Lungu as the PF's secretary-general, Mr Scott stressed the need for unity as Zambia mourns Mr Sata.
"All party members, cadres and others must immediately desist from any form of unrest or violence. It is completely unacceptable that our grief and mourning be marred by violence and disorder such as has been observed in some places over night and today," his statement said.
He also urged party members not to issue "inflammatory statements".
Thousands of people have been viewing Mr Sata's body at the Mulungushi International Conference Center ahead of his funeral on 11 November.
He died of an undisclosed illness at a UK hospital last week, aged 77.
Our correspondent says most people see Mr Scott as a Zambian, and do not regard his race as an issue.
Related Internet Links
The BBC is not responsible for the content of external sites.