South Africa guns sought 'to make Senzo Meyiwa statue'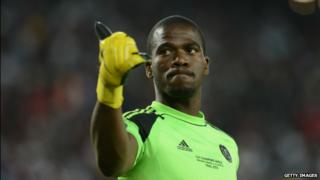 The South Africa Football Association (Safa) has launched a campaign calling for people to surrender their guns following the fatal shooting of national football captain Senzo Meyiwa.
Safa President Danny Jordaan said the illegal weapons would be melted and made into a statue of the popular goalkeeper.
It is not clear if those who surrender their arms will be given an amnesty.
Meyiwa was killed during a robbery at his girlfriend's home on 26 October.
One suspect has been arrested by a special police task team handling the case.
Meyiwa, who played for Soweto team Orlando Pirates, was given a funeral in KwaZulu-Natal province at the weekend, which was attended by thousands of his fans.
His death has once more highlighted the high rates of violent crime in the country - where 47 people are murdered a day.