Kenyan Muslim cleric Salim Bakari Mwarangi shot dead in Mombasa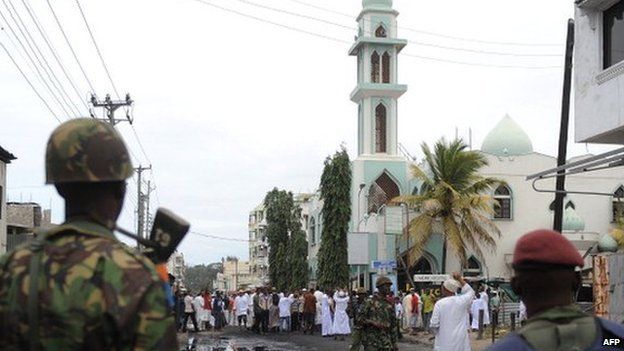 A moderate Muslim cleric has been shot dead by gunmen in the Kenyan coastal city of Mombasa, police say.
Salim Bakari Mwarangi, a vocal critic of Somalia's al-Shabab Islamist group, was shot after evening prayers on Tuesday, the city's police chief said.
The BBC's Robert Kiptoo in Mombasa says he had received death threats from those who accused him of being too close to the government.
Six clerics, both radical and moderate, have been killed in Mombasa since 2012.
Kenya's coastal region, which has a large Muslim population, has been hit by a series of attacks blamed on al-Shabab, which is linked to al-Qaeda.
"Gunmen on a motorbike slowed down, shot at him and sped off," Mombasa's police chief Robert Kitur told the AFP news agency.
"Police have launched an investigation and manhunt for the attackers."
Our reporter says Mr Mwarangi, who preached in Mombasa's Likoni suburb, was unpopular with radical Muslim youths in the city because he campaigned against radicalisation and drug use.
Some regarded him as a government spy, he says.
The government has provided security and transport for locals wishing to attend his burial about 55km (34 miles) away in the fishing town of Msambweni, our correspondent says.
In recent years, the authorities have been trying to break up militant recruitment networks in Muslim communities in Kenya.
Supporters of the three hardline Muslim preachers who have been shot dead in Mombasa since August 2012 accuse the government of being behind their killings - charges the authorities denied.
In April, Abubakar Shariff Ahmed, known as Makaburi, who had been listed by the UN as a recruiter for al-Shabab, was killed near Mombasa.
Before he died he had said he supported the group's attack last year on the Westgate shopping centre in the capital, Nairobi, when 67 people died.
Related Internet Links
The BBC is not responsible for the content of external sites.