Rwanda musician Kizito Mihigo admits opposition RNC contact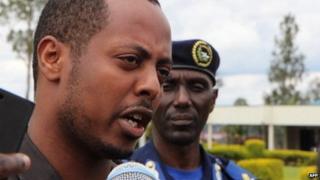 Popular Rwandan musician Kizito Mihigo has admitted he had contact with an exiled opposition group at the start of his trial on terrorism charges.
But he has denied involvement in a plot to kill President Paul Kagame along with his three other co-accused.
In text messages with a member of the South Africa-based Rwanda National Congress (RNC) he said he had discussed the peaceful removal of the government.
His lawyer said this was not a crime under Rwandan law.
'Emotional'
"In WhatsApp and Skype conversations between Mihigo and Callixte Nsabimana, an RNC member, the two discussed plans of overthrowing the government by use of violence," Rwanda's New Times paper quotes Prosecutor Faustin Nkusi as saying.
In court, Mr Mihigo initially pleaded guilty - then he asked for forgiveness for contacting the RNC and said he was not involved in any murder plots.
His lawyer John Bigaraba intervened to make it clear that his client was speaking emotionally and that there was no evidence to find him guilty on any of the charges and that he was innocent.
The musician, who was arrested in April, is on trial with Cassien Ntamuhanga, the programme director of a Christian radio station, ex-soldier Jean Paul Dukuzumuremyi and Agnes Niyibizi, a student and former receptionist, who deny all charges.
They face five charges including forming a criminal gang, complicity in a terrorist act, murder and conspiracy to murder.
The RNC was co-founded by Patrick Karegeya, Rwanda's former spy chief who was once an ally of President Kagame.
He was found dead in South Africa on New Year's Day and his allies, family and the South African authorities blame Rwanda's government, which has denied responsibility.
In April, the police said the accused were planning revenge attacks in retaliation for the assassination of Mr Karegeya.
Mr Mihigo used to be close to the governing Rwandan Patriotic Front (RPF) party and his arrest in April came as a surprise to many Rwandans.
He is a survivor of the 1994 genocide and is well known for his reconciliation work and religious songs.
The RPF's rebel movement took power after the genocide in which some 800,000 ethnic Tutsis and moderate Hutus were killed.
President Kagame, who has won two elections, has been hailed for driving rapid economic growth but human rights groups accuse him of not tolerating dissent.