The 'heroes' of Burkina Faso's revolution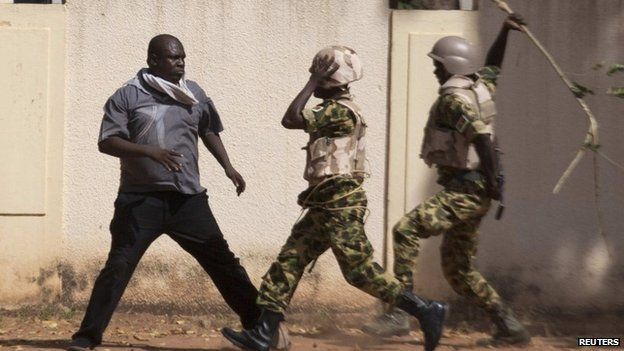 The mass uprising in Burkina Faso which led to the overthrow of long-serving ruler Blaise Compaore has turned a tax inspector and a student into heroes of the revolution, writes the BBC's Lamine Konkobo.
On the morning of 30 October, Lassina Sawadogo knew he could die on the streets of his hometown, Ouagadougou, but he had no idea he was on a journey to becoming a celebrity.
Mr Sawadogo was one of thousands of protesters who rose up that day to oppose an attempt by the government to amend the constitution to make it possible for President Blaise Compaore to extend his 27-year rule beyond November 2015.
"When we descended on to the streets, we were not prepared to return without victory," Mr Sawadogo told the BBC.
Almost two weeks after the turmoil, the 40-year-old tax inspector has become a luminary of sorts.
In Ouagadougou, young people now want to chat with him and he is feted on radio talk-shows and in local newspapers as a hero.
Mr Sawadogo could have remained anonymous like the thousands who swarmed to the streets intent on upholding the principles of democratic change.
But thanks to a photograph, he has been spared anonymity.
He was among a throng that headed towards the headquarters of the state broadcaster, RTB, after storming parliament and setting it alight.
"We had already decided that pulling the plugs off the amendment bill was no longer enough," he says.
"We now wanted the resignation of the president and our aim was to secure the national radio station, so as to avoid it becoming a tool of propaganda for the falling regime."
Former soldier and served under President Thomas Sankara as minister of state to the presidency
Took power after Sankara was killed in mysterious circumstances by a group of soldiers in 1987
First elected president in 1991 and again in 1998
A new constitution in 2000 limited presidents to two terms in office, and limited terms to five years
Won two further terms
Faced outbreaks of violence on several occasions, including a military mutiny in 2011
Overthrown in October after mass protests against his rule
Exiled in neighbouring Ivory Coast
As the crowd surged towards the building, anti-riot police fired tear gas and warning shots - but the protesters pressed forward.
At that moment, Mr Sawadogo came face-to-face with two soldiers.
They seemed primed to bring him under control, but rather than relenting and turning back on his heels, Mr Sawadogo decided to challenge them.
Nearby, Reuters news agency photojournalist Joe Penney who was documenting the uprising, had his camera ready.
He was quick to capture the moment and so secured an image that would soon go viral, becoming a testimony to the protesters' courage.
"It happened so fast that I wonder how the photographer could have captured it," Mr Sawadogo says.
"When all of it was happening, nothing was going through my mind," he says.
"I heard the reports about the casualties; about those who were killed. I knew the worst could have happened, but backing off was out of question," he adds.
From a different part of the city that Thursday, 27-year-old engineering student Romuald Ouedraogo had also emerged on to the streets - after carefully turning himself into a walking billboard, with a message of defiance for the security forces.
"When I woke up, I set my mind on going out there and sending a strong message and I had no fear of dying. I woke up with unusual courage," Mr Ouedraogo told the BBC.
"Make or break, that was the motto."
Just like Mr Sawadogo, he is now celebrated in Ouagadougou as a hero of the uprising.
Against the backdrop of a smoke-filled skyline of the capital city, Mr Ouedraogo was immortalised on camera by an amateur photographer.
The picture - that also went viral - shows him with a defiant fist raised in the air, and a large target drawn on his white T-shirt.
It was reinforced with the message: "Shoot. My country or my death."
"It was spontaneous. It took me less than 10 minutes to come up with it," Mr Ouedraogo says.
"I had seen the strong messages they sent the president at previous demonstrations and I wanted to contribute with my own."
The two-day uprising that led to Mr Compaore's fall claimed at least 32 lives and hundreds of wounded are still being treated in hospitals across the country.
Since he resigned and fled to neighbouring Ivory Coast, negotiations have been under way between the military - which stepped in to fill the power vacuum - opposition parties and civil society groups to form a transitional government led by a civilian.
"Blaise Compaore had to go because people were fed up of him after 27 years in power," says Mr Sawadogo, explaining why he was willing to risk his life.
"Government had become a matter of a personal patrimony and some officials from his party were saying that they even found no problem with Jamila, the president's daughter, taking over from him as president," he adds.
Mr Ouedraogo has an equally damning assessment of Mr Compaore's rule.
"We had come to realise that it was a government run by some 30 guys that made their fortunes sucking blood off the people," he says.
"A frustration endured over a long period of time is bound to end up in a revolt. We had a thirst for freedom and we wanted to live through an experience of change."
Both Mr Sawadogo and Mr Ouedraogo are far from declaring "mission accomplished".
However, Mr Sawadogo is ecstatic that the murder in 1987 of his political idol, Thomas Sankara, has been avenged to some extent.
The killing of Sankara, a pan-Africanist revolutionary who was Burkina Faso's leader at the time, opened the way for Mr Compaore's French-backed ascent to power.
Mr Sawadogo says he will remain on the lookout to make sure that any new leader emerging from the transition puts the people's aspirations above all other considerations.
"I consider myself to be a soldier of the people," Mr Ouedraogo also warns.
"The one who is coming after Blaise Compaore, if he does not do what we want, we will have to just ask him to clear off."