Why Equatorial Guinea was chosen as Nations Cup hosts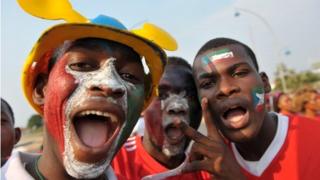 For years oil-rich Equatorial Guinea was a mere footnote in African football.
Now one of the continent's smallest countries will become the first to host two Africa Cup of Nations in a four-year period following the decision of the Confederation of African Football (Caf) to award it the 2015 finals.
That the tournament should be going somewhere it has recently been should not come as a surprise, given that few countries have the existing infrastructure to host a Nations Cup at such short notice.
Once Morocco asked for the finals, due to kick off in January, to be postponed because of concerns over Ebola, Caf has been in a frantic race to find a new host.
The head of African football Issa Hayatou had said that any postponement of the tournament would be a "mortal blow" to the African game.
There are now just 64 days before the event kicks off.
Caf sounded out potential hosts but the response was cold, with South Africa, the 2013 hosts, Algeria and Sudan all believed to have said no, while Ghana, which staged it in 2008, and Nigeria were tempted but ultimately reluctant.
Angola was another possibility, having hosted the tournament in 2010. But despite having the facilities and the resources, there was no interest because of a lack of time and no provision in the budget.
Punch above its weight
Caf's problem was that it not only had to find somewhere with infrastructure already in place but also the political will.
Listed as one of the world's most corrupt states by corruption watchdog Transparency International, Equatorial Guinea is certainly keen to improve its global standing.
Fuelled by oil money, it is also keen to punch above its weight, which it has managed to do by hosting the African Union summit in palatial surroundings in recent years.
So its decision to step in should not be too unexpected, but what is surprising is that a nation with a population of just 740,000 will stage the finals all by itself.
Since first hosting the tournament in 2012, alongside neighbours Gabon, Equatorial Guinea has built new stadiums in both Mongomo and Ebebiyin - the two new venues - which join Bata and the capital Malabo, located on the island of Bioko.
The hotel capacity in these new cities is likely to be minimal, meaning that one of the football world's most colourful competitions may prove a struggle for both media and fans to follow.
And that's not even taking the high cost of living in Equatorial Guinea into account.
Still, that at least means the event is unlikely to lead to a spread of the deadly Ebola virus, as Morocco had feared.