Kenya arrests after women 'stripped' in Nairobi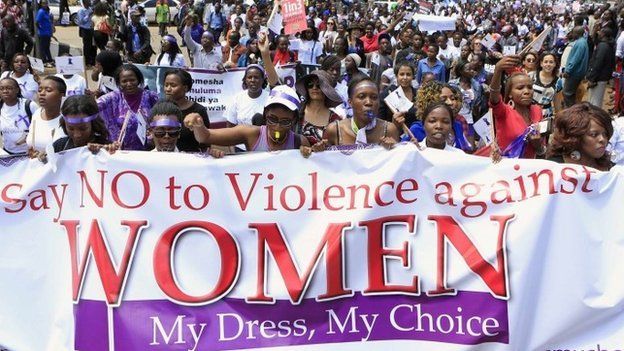 About 100 people have been arrested in Kenya's capital, Nairobi, after a second woman was attacked for allegedly dressing indecently, police say.
The woman's clothes were torn off and she was assaulted and paraded along a road, police added.
The arrests in raids across the city were aimed at curbing the harassment of women, police said.
About 200 people rallied in Nairobi on Monday over the alleged stripping of a miniskirt-wearing woman last week.
The BBC's Robet Kiptoo in Nairobi says Kenya is a conservative society, where activists complain that women's rights are often violated.
Our reporter says the attack on a second woman has shocked many people, and police responded by carrying out swoops at various bus ranks.
Nairobi police chief Moses Ombati said 20 people had been arrested in connection with the latest attack.
The woman was on her way to a shop when she was accosted by a gang, Mr Ombati said.
Police on patrol rescued her and took her to hospital for treatment, he added.
The other 80 people arrested were held in raids at bus ranks in the city, our reporter says.
Mass arrests are often carried out by police in Kenya when they are under public pressure. It leads to the arrest of many innocent people who are later released, he says.
A mothers' group, Kilimani Mums, organised a protest on Monday over assaults on women for wearing supposedly immodest clothes.
It came after a video of an assault last week went viral on social media.
Protesters chanted "Shame on you" and handed out flowers at a bus rank where the woman's clothes were torn off.
At a rival demonstration about 20 men chanted "Dress up. We don't want this."
Deputy President William Ruto said Kenya was not a "primitive" society and the men who stripped the woman should be arrested.