Ebola crisis in Liberia: 'One in two workers now jobless'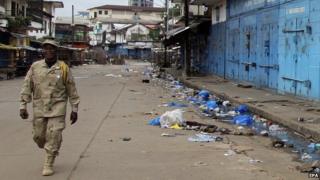 Nearly half of all Liberians who were employed when the Ebola outbreak began are no longer working, a survey by the World Bank has found.
It said many workers have been told to stay at home or have lost their jobs, while markets have been forced to shut.
Earlier, a World Bank economist said the Ebola outbreak was expected to cost the region about $3-4bn (£1.9-2.5bn).
Ebola has infected about 14,000 people in West Africa, killing more than 5,000 - with about 2,800 deaths in Liberia.
Ana Revenga, a senior World Bank official, said even those living areas of Liberia that have not been hit by Ebola "are suffering the economic side effects of this terrible disease".
"Relief efforts must focus not only on those directly affected by the virus, but also on those in the poorest communities for whom market access, mobility and food security continue to get worse," she added.
The World Bank said Liberia's agricultural sector was showing the most resilience to the disease, but its survey found that 70% of respondents said they do not have enough money to afford food.
The economic cost of the outbreak will not be as bad as first feared though, according to Francisco Ferreira, the World Bank's chief economist for Africa.
Talking at a lecture in South Africa, he said the total cost was likely to be about one-tenth of the $32bn loss previously estimated as the worst-case scenario in West Africa.
The outbreak's successful containment in some West African states made the gloomiest forecasts less likely, but there was no room for complacency, he added.
Liberian President Ellen Johnson Sirleaf echoed his comments about complacency but said her country was now winning the fight against Ebola.
"The sustaining of anti-Ebola measures over the last two months has meant that in Liberia we now have the upper hand," she said in a statement.
"But our government remains concerned that progress in this battle will lead to complacency on the part of the international community. We must not interpret gains as an outright victory - nothing could be more dangerous."
Tourism down
Mr Ferreira warned that Ebola had ravaged the tourist industry across Africa.
A survey by a specialist travel company in September showed that travel bookings were down by as much as 70%, even for destinations far away from the affected areas.
The virus has killed more than 5,000 people, mainly in Guinea, Liberia and Sierra Leone.
The World Health Organisation declared the outbreak a global health emergency in August.
Meanwhile, Senegal has reopened its land border with Guinea, where the outbreak was first identified in March, for freight traffic, but not cars or people on foot.
Last week it opened its airports and seaports to traffic from Guinea, Liberia and Sierra Leone.