South Africa rhino deaths hit record despite conservation push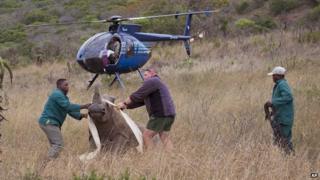 Poachers have killed 1,020 rhinos in South Africa this year, the government says - a record number which conservationists say highlights the faltering drive to save the animal.
The number of deaths every year has been rising in South Africa, which has the world's largest rhino population.
The rise is blamed on the soaring price of rhino horn in China and Vietnam.
Activists warn that rhino deaths will soon overtake births, pushing the endangered species towards extinction.
If the killing continues at the current rate, deaths could exceed births in the next four years, they say.
More than half the deaths recorded in South Africa this year have been in Kruger National Park, which covers an area of about 20,000 sq km (7,500 sq miles).
Last year, South Africa reported that poachers had killed 1,004 rhinos - then a record total.
The killings have continued unabated despite a variety of efforts to thwart poaching.
South African authorities have moved some rhinos to "safety zones" in neighbouring countries and equipped guards in national parks with guns, helicopters and sniffer dogs.
The army has also been deployed along the border with Mozambique - a major centre for poaching.
South African Environmental Minister Edna Molewa is quoted by AFP news agency as saying: "We are concerned that poaching is part of a multi-billion dollar worldwide illicit wildlife trade. Addressing the scourge is not simple."
Rhino horn sold illegally can fetch more than gold.
Criminal groups are involved in a multi-billion dollar trade worldwide, exporting the horns to both Asia and the Middle East.
Some people regard rhino horns as a status symbol and a healing agent, despite a lack of evidence that it can cure illnesses.