French President Francois Hollande to visit Ebola-stricken Guinea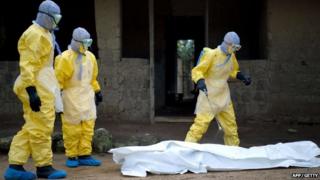 France's President Francois Hollande has said he will travel to the West African country of Guinea, one of the worst affected by the Ebola epidemic.
His visit next Friday will be the first made to the country by a non-African leader since the outbreak began.
Mr Hollande will meet with Guinean President Alpha Conde and visit a field hospital set up by French doctors.
Meanwhile Liberian police said all public beaches would be closed from 29 November because of the virus's spread.
Public rallies and demonstrations were also banned, though an exception was made for those related to the ongoing mid-term senate election campaign.
It is hoped that these measures will reduce the transmission of the virus.
'Taking action'
Mr Hollande will travel to Guinea ahead of a summit of French-speaking nations in Senegal.
He told reporters: "France is taking action in matters that concern it and other countries in Guinea and has set up a hospital in [the country's south-east]."
France has also sent a medical team to Mali, which has recently reported a number of Ebola cases.
Of the six people infected, all have died.
Guinea, unlike Mali, is no stranger to the virus. The current epidemic, which has killed 1,214 Guineans, originated there.
There have been 15,351 cases of Ebola and 5,459 deaths since the current outbreak began, according to the latest figures by the World Health Organization.