Tunisia election: Essebsi and Marzouki face run-off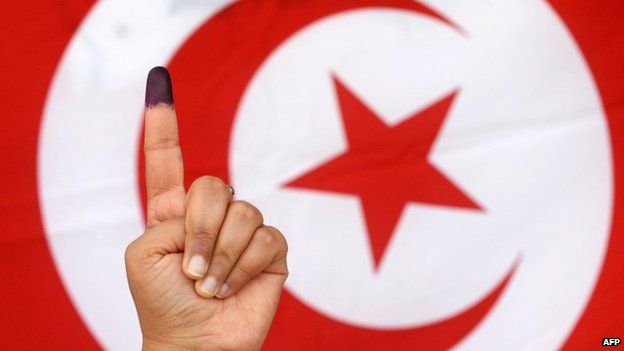 Tunisia's presidential election will go to a run-off after no candidate secured an overall majority in the first round of voting, official results have shown.
Beji Caid Essebsi of the secular-leaning Nidaa Tounes party came first with 39% of the vote, ahead of interim leader Moncef Marzouki on 33%.
More than 25 candidates were competing to become the North African country's first freely elected president.
It follows the ousting of long-time leader Zine el-Abedine Ben Ali in 2011.
The presidential election is viewed as a landmark in Tunisia's transition to democracy since then.
Under a constitution passed earlier this year, the president will have limited powers in a political system dominated by parliament.
The president will be commander-in-chief of the armed forces, but can appoint or sack senior officers only in consultation with the prime minister.
The president will also set foreign policy in consultation with the prime minister, represent the state and ratify treaties.
Mr Essebsi, whose party won the most seats in recent parliamentary elections, will turn 88 this week.
He held public office under both Mr Ben Ali and independence leader Habib Bourguiba and has based his appeal to voters on stability and experience, as well as a secular outlook.
Critics say he represents a return to the past.
Mr Marzouki, 69, was a prominent human rights activist forced into exile by the Ben Ali regime. He has been interim president of Tunisia since 2011, having been elected by the national constituent assembly.
His focus during the election campaign was on transitional justice and a rejection of past authoritarian government.
The Islamist Ennahda party, which has been prominent in Tunisian politics since Mr Ben Ali was deposed, did not field or endorse a candidate in the election.
It came second in October's parliamentary elections, losing out to Nidaa Tounes.
Analysts say many of its supporters are likely to back Mr Marzouki.
The run-off vote is expected to take place in December.