South African ventriloquist overturns gagging order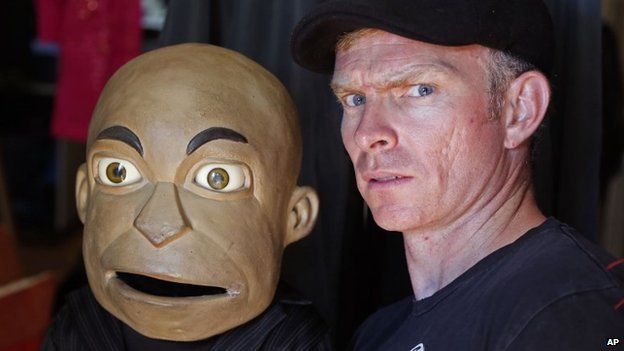 A South African ventriloquist has overturned a gagging order banning him from criticising an Afrikaner singer.
Conrad Koch and his dummy appeared in court together to fight the ban.
The order was imposed after Mr Koch accused singer Steve Hofmeyr of racism for tweeting: "Sorry to offend but in my books Blacks were the architects of Apartheid. Go figure."
Magistrate Naren Sewnarain said the musician had "exposed himself to criticism, satire and ridicule".
"The court is not satisfied that he should be accorded the protection," the magistrate said.
At the height of their row that played out on Twitter last month, Mr Koch criticised businesses sponsoring the singer's concerts.
The BBC's Pumza Fihlani in Johannesburg says Mr Hofmeyr is not a stranger to controversy and is frequently accused of racism - suggestions the singer denies.
Many Afrikaners regard him as as a hero, often tweeting about injustices including the murders of white farmers, and how they have been marginalised since the end of white-minority rule in 1994, our correspondent says.
In the Randburg magistrate's court, Mr Koch's lawyers argued that as a public figure airing strong views, Mr Hofmeyr could expect a "robust response".
The temporary gagging order had prevented Mr Koch from threatening, harassing, or making defamatory statements about Mr Hofmeyr.
He also could not mention him on social media.
Mr Koch has a large following in South Africa and uses his mixed-race puppet, called Chester Missing, to tackle thorny issues such as corruption, racism and social injustice, our reporter says.
Mr Hofmeyr did not attend Thursday's hearing, but was represented by pro-Afrikaans activist Dan Roodt, who argued the singer's tweet was not offensive.
"Hofmeyr contends that everyone who participated in the pre-1994 South Africa... is jointly responsible for apartheid, regardless of colour."
After the ruling, Chester Missing tweeted: "AMAANDLAAAAA!!!!!!!!!! Viva South Africa, viva!!!!!!"
Amandla means "power" and was a rallying call among anti-apartheid activists.
Mr Hofmeyr tweeted: "We accept the court's judgement. Thank you", and later added in Afrikaans: "The end of freedom of expression. Perhaps the media are next."
The singer was ordered to pay Mr Koch's legal costs and other costs arising from the case.
Related Internet Links
The BBC is not responsible for the content of external sites.