Tanzania PM Mizengo Pinda caught in corruption row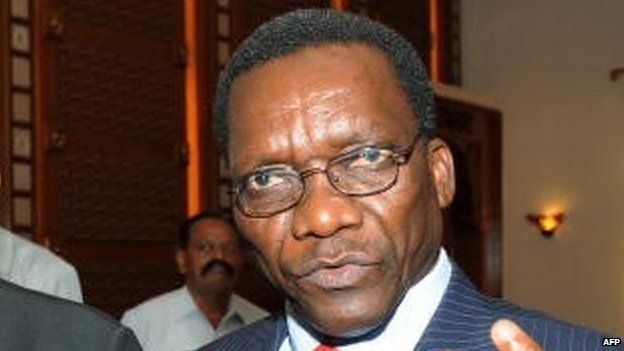 Tanzania's prime minister is under pressure to resign over alleged fraudulent payments worth $120m (£76m) to an energy firm and top officials.
Mizengo Pinda failed to properly oversee government finances, a parliamentary watchdog committee said.
It also called for the resignation of two powerful government ministers. All three have denied any wrongdoing.
Last month, donors suspended about $490m in aid to Tanzania until the allegations were investigated.
President Jakaya Kikwete took office in 2005 with a promise to tackle corruption in government, but critics accuse him of failing to live up to his pledge.
Parliament, dominated by the ruling Chama cha Mapinduzi (CCM) party, is currently holding a special session to discuss the public accounts committee's call for Mr Pinda's resignation, despite his efforts to block the session.
It shows how angry ruling party MPs are with the government over the issue, reports the BBC's Aboubakar Famau from parliament in the capital, Dodoma.
The committee's investigation found government money had been taken from an escrow account, paid to an energy firm and then given to various government ministers, our correspondent says.
The committee also called for the resignation of Attorney General Frederick Werema and Energy and Minerals Minister Sospeter Muhongo.
Our reporter says the committee has reflected the public mood by calling for their resignations, with people pointing out that $120m could buy 40 million school desks or finance the studies of 10 million pupils.
A group of 12 donors - including Japan, the UK, the World Bank and the African Development Bank - decided last month to withhold aid until the government took action over the alleged corruption, Reuters news agency reported at the time.
MPs had accused senior officials of fraudulently authorising payment of around $120m from the escrow account held jointly by state power firm Tanesco and independent power producer IPTL to IPTL's owner Pan Africa Power (PAP) in 2013.
PAP said the transfer was legal, Reuters reported.
Related Internet Links
The BBC is not responsible for the content of external sites.