Namibia votes in Africa's first electronic poll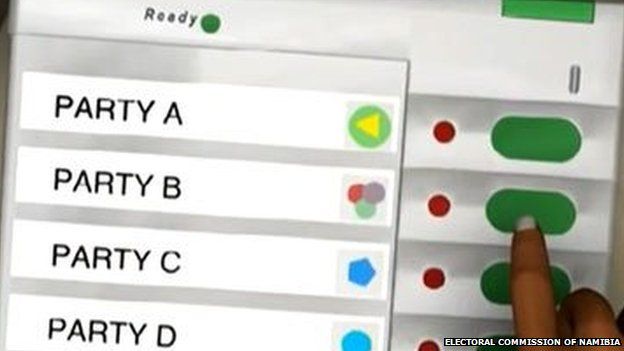 Namibians are choosing a new president and parliament - in what is Africa's first electronic ballot.
The ruling South West Africa People's Organisation (Swapo) is expected to win the poll and Prime Minister Hage Geingob to become president.
Opposition parties had challenged the Indian-made e-voting machines, citing concerns that a lack of a paper trail could encourage vote rigging.
But the case was dismissed by the country's High Court this week.
About 1.2 million voters are eligible to cast their ballots at nearly 4,000 polling stations across the vast country.
Polling officers will verify voter cards on a device containing the national voters' roll. In the booth, the voter selects their party of choice by pressing a button on an electronic ballot unit.
Electoral officials believe results will be available 24 hours after the poll ends.
There are 16 parties contesting the parliamentary vote and nine are fielding presidential candidates.
Swapo - which has won all elections since independence from South Africa in 1990 - is expected to triumph again in the race to the National Assembly.
The party's candidate Mr Geingob is widely seen as the favourite to become president.
Incumbent President Hifikepunye Pohamba has already served the maximum two terms allowed by the constitution.
Swapo's liberation movement credentials play a significant role in securing party loyalty across age groups, analysts say, although that loyalty has been eroded.
The ruling party has a long record of addressing issues of social inequality, but opposition parties highlight accusations of land grabs and abuse of power by officials.