Kabila 'coup plot': DR Congo suspects acquitted in South Africa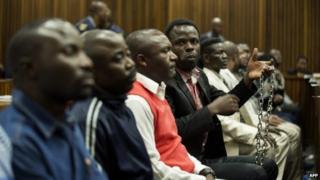 A group of 15 men accused of plotting to assassinate the president of the Democratic Republic of Congo, Joseph Kabila, have been acquitted by a South African court.
Prosecutors dropped the case because of a lack of evidence against the men, all Congolese nationals.
However, five more suspects are still facing trial.
They include the plot's alleged ringleader Etienne Kabila, who says President Kabila is an imposter.
Thesigan Pillay, a lawyer for 10 of the acquitted men, told the BBC his clients plan to sue the authorities for the two years they spent in custody.
He said they have been mistreated by guards and that injuries they sustained before and after their arrest have been left untended.
The alleged plot came to light in February 2013 after South Africa's counter-terrorism forces infiltrated the group.
Their trial began in August this year.
Etienne Kabila says he is the son of former DR Congo President Laurent Kabila, and that Joseph Kabila, the current leader, is not his real son.
Joseph Kabila took power in 2001 after the assassination of his father.
The trial has been adjourned until January, according to the AFP news agency.
The remaining five suspects, all Congolese, are accused of amassing a weapons cache in order to establish an assassin's training camp.