Egypt's court to rule in murder retrial of ex-leader Mubarak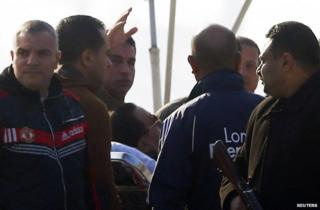 An Egyptian court has gathered to deliver its verdict in the retrial of ousted President Hosni Mubarak on charges of conspiring to kill protesters during the 2011 uprising.
An appeals court last year overturned a life sentence given to Mubarak in 2012 on technical grounds and the 86-year-old denies all the charges against him.
He is currently serving a three-year sentence for embezzling public funds.
More than 800 people were killed in the weeks before Mubarak was ousted.
A lawyer for victims, Hoda Nasrallah, said she was worried that renewed empathy for Mubarak could have an impact on the judge's ruling.
Amal Shaker, mother of 25-year-old Ahmed who was fatally shot in the back during the 2011 uprising, said she was still waiting for justice.
"Youth that were like flowers were killed," she told AP news agency. "Four years have passed, where is the trial?"
The court is also due to rule in the retrial of Mubarak's sons Gamal and Alaa on separate corruption charges.
'Same regime'
Mubarak was flown by helicopter from the military hospital where he is being held under house arrest, to the Cairo police academy where his trial is taking place.
Armed police escorted him as he lay on a hospital trolley.
In 2012, Mubarak - along with former Interior Minister Habib al-Adly - was sentenced to life in prison for complicity in the deaths of demonstrators in 2011.
Those convictions were overturned in January of last year on technical grounds and a retrial was ordered.
Mubarak's elected successor as president, Islamist Mohamed Morsi, lasted only a year in power before being ousted by the military in July 2013 during mass anti-government protests.
Army chief Abdel Fattah al-Sisi was subsequently elected in his place and under his rule, TV stations and newspapers have largely dropped criticism of the Mubarak era, correspondents say.
Mahmoud Ibrahim Ali, whose wife was killed during the 2011 uprising, has little faith in the judiciary, believing it simply does the government's bidding.
"The regime is the same," he told AP. "Names have changed but everything is the same.''
At least two demonstrators died in clashes on Friday between Islamist protestors and police in the capital Cairo.
The protests were called by an ultra-conservative Salafi group, which opposed the overthrow of Mr Morsi.
The group asked protestors to defend what it called Egypt's "Islamic identity".