Nigeria's 'Boko Haram attacks Maiduguri and Damaturu'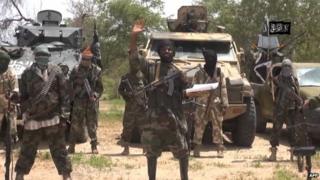 Suspected Boko Haram militants have struck in two state capitals in north-east Nigeria, with suicide attacks by female bombers in Maiduguri and a raid on a police base in Damaturu.
At least five people were killed in the twin blasts at a crowded market in Maiduguri, police said.
In Damaturu, explosions and gunfire were heard as militants rampaged through the city, residents said.
Boko Haram has vowed to create an Islamic state in areas it controls.
The blasts at Monday market in Maiduguri, the state capital of Borno, were caused by "two girls", witness Mallam Muhammadu told Associated Press (AP) news agency.
At least 32 people were wounded in the explosions, a source at the local hospital told the BBC Hausa service.
Confirming the attacks, police spokesman Gideon Jibrin told the AFP news agency that five people had been killed, and not 10 as initially thought.
Suicide attacks by two female bombers at the same market on 25 November killed 78 people.
Maiduguri was the headquarters of Boko Haram, until it was driven out of the city earlier this year by the security forces and vigilante groups.
'Chaos all over town'
The assault on Damaturu, the capital of neighbouring Yobe state, began shortly after 05:00 local time (04:00 GMT), forcing most residents to stay indoors or to flee the city.
The militants set fire to a riot police base, and attacked a primary school and the city's university.
A university student told BBC Focus on Africa he had been woken by the sound of explosions and had seen a large number of militants wearing military uniforms moving into the city.
He said he and some other residents had since fled to the surrounding countryside.
Another resident told the BBC that schools and businesses were shut, and most people were staying at home.
Boko Haram militants had stormed an empty primary school, and were firing shots from there, he said.
"We have left our homes. We are now in the bush. We don't know what's going to happen," resident Umar Sada told AFP.
A government official, who asked not to be identified, said: "It's chaos all over the town. All I can hear is explosions and gunfire from my house.
"I couldn't go out for morning prayers because this started before dawn and I'm afraid to leave in case I get caught up in it."
Boko Haram has taken control of a series of towns and villages in north-east Nigeria in recent months.
---
Who are Boko Haram?
Founded in 2002
Initially focused on opposing Western education - Boko Haram means "Western education is forbidden" in the Hausa language
Launched military operations in 2009 to create Islamic state
Thousands killed, mostly in north-eastern Nigeria - also attacked police and UN headquarters in capital, Abuja
Some three million people affected
Declared terrorist group by US in 2013
Profile: Boko Haram leader Abubakar Shekau
---
The authorities have struggled to defeat the militant group, which has been waging an insurgency since 2009.
New York-based Human Rights Watch says Boko Haram has killed more than 2,000 civilians this year.
On Friday, more than 100 people were killed in a gun and bomb attack on a mosque in the city of Kano.
The identity of the attackers has not been confirmed but Boko Haram has been widely blamed.
Damaturu has been targeted by Boko Haram a number of times before.