Steve Biko family take legal action over post-mortem sale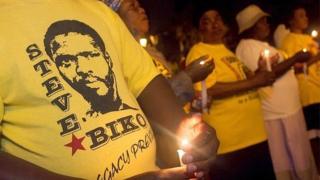 The family of the South African anti-apartheid activist, Steve Biko, are taking legal action in an attempt to stop a post-mortem report on his death being sold at auction.
The document was scheduled to be sold in Johannesburg and is now the subject of a court hearing on Wednesday.
The family said the report was part of national history and should not be sold for private gain by third parties.
Steve Biko died in South African police custody in 1977, aged 30.
His post-mortem report was listed for sale alongside that of another anti-apartheid activist, Ahmed Timol, who died in 1971.
On Tuesday evening, the auction house's website still showed an image of Mr Timol's post-mortem report but there was no reference to Mr Biko.
Below the image of the report on Mr Timol was the word "withdrawn".
'Fails the nation'
Nkosinathi Biko, who heads a foundation established in his father's name, said: "The autopsy report of any deceased person is central to the dignity of the deceased.
"An action by an unrelated party that amounts to auctioning off national history for private commercial reasons fails the nation at the level of morality and decency, and certainly fails at honouring the memory of those who laid their lives down for that very nation," he added.
He said the post-mortem report rightfully belonged to his family, which wished to preserve the document and display it to all South Africans to further the activist's legacy.
A nephew of Mr Timol, Imtiaz Cajee, said: "These items are for public consumption and totally inappropriate to be sold at an auction for the personal enrichment of third parties."
The auction house has not commented on the legal action.
The document was said to have come into the possession of the vendor through his mother, who had been a secretary for Dr Jonathan Gluckman, a pathologist appointed by the Biko family to attend the post-mortem.
The pathologist had apparently given the document to his secretary for safe-keeping because of security concerns.