South Africa court blocks Biko autopsy report 'sale'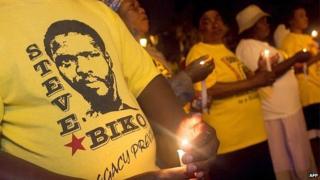 A South African court has blocked the auctioning of the post-mortem report of renowned anti-apartheid activist Steve Biko, his family says.
The report was part of national history and should not be sold for private gain by third parties, his family said.
An auctioneer had planned to sell the document obtained from the estate of a former employee of a pathologist who attended the post-mortem.
Biko died in police custody in 1977, causing an international outcry.
The court also blocked the sale of the post-mortem report of another anti-apartheid activist Ahmed Timol, who died in police custody in 1971.
'Morality and decency'
Both were aged 29 at the time of their deaths.
Biko's son Nkosinathi said auction house Westgate Walding had been prevented from selling the documents.
"We've just received an order in our favour and basically the family [in possession of the documents] and the auction house are prevented from disposing of the material, altering it and copying it," he is quoted by South Africa's Eyewitness News as saying.
The documents are said to have come into the possession of the vendor through his mother, who had been a secretary for Dr Jonathan Gluckman, a pathologist appointed by the activists' families to attend the post-mortems.
Dr Gluckman had apparently given the documents to his secretary for safe-keeping because of security concerns.
"An action by an unrelated party that amounts to auctioning off national history for private commercial reasons fails the nation at the level of morality and decency, and certainly fails at honouring the memory of those who laid their lives down for that very nation," Nkosinathi Biko said on Tuesday, when he launched court action to block the sale.
The families of Biko and Timol hold the former apartheid regime responsible for their deaths, saying they were tortured and killed in detention.
The regime denied responsibility for their deaths.
Apartheid ended in South Africa in 1994, with the election of Nelson Mandela as the first black president.