Nigeria frees Russian-owned plane carrying French cargo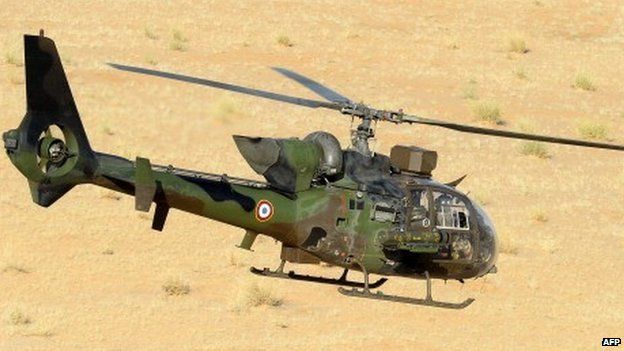 Nigeria says it has released a Russian plane carrying French military helicopters following "clarification" from the French government.
The plane was impounded on Saturday after its unscheduled landing in the northern Nigerian city of Kano, where militant Islamists are active.
France said the plane diverted to Nigeria because of heavy traffic at the airport in neighbouring Chad.
The Antonov 124 was flying from the Central African Republic (CAR).
France is winding down its peacekeeping operations in CAR and bolstering its anti-Islamist regional operation, codenamed Barkhane, in Chad, AFP news agency reports.
The Russian embassy in Nigeria initially denied knowledge of the plane, but later confirmed that it was a Russian-owned aircraft.
France's ambassador to Nigeria, Jacques Champagne de Labriolle, said the Antonov 124 was carrying two Gazelle light helicopters.
Nigeria's air force chief Adesola Amosun announced the release of the plane alongside France's defence attache, Marc Humbert, in the capital, Abuja.
The plane had been impounded because the Nigerian authorities "did not get adequate and sufficient clarification from the crew" and there were also "language issues", Air Marshal Amosun said.
Eighteen Russian crew and two French military personnel were questioned by Nigerian authorities but not arrested after the plane's seizure, AFP quotes unnamed sources as saying.
Some Nigerians had been suspicious that the plane was carrying arms for militant Islamist group Boko Haram, which is waging a brutal insurgency in the north.
It killed more than 100 people in a bomb attack in Kano, the main city in the north, last month.
Related Internet Links
The BBC is not responsible for the content of external sites.