Nigeria violence: Two suicide attacks near busy Kano market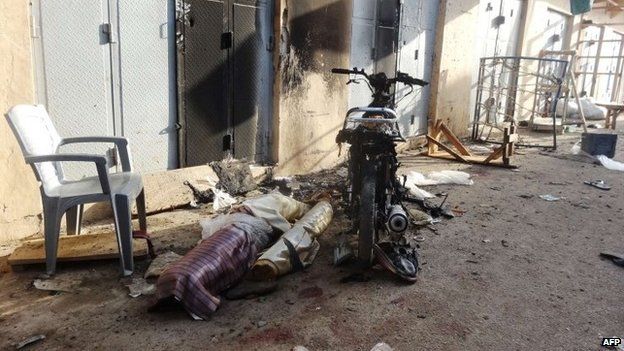 At least four people have been killed and seven injured in a double attack by female suicide bombers near a market in Kano, northern Nigeria, police say.
One blast hit a vehicle loading area at the Kantin Kwari textile market. Boko Haram militants are suspected of being behind the attacks.
Last month more than 100 people died in a gun and bomb attack during prayers at one of the biggest mosques in Kano.
Some 2,000 have died in attacks blamed on the Islamists so far this year.
AFP news agency quoted state police commissioner Adenrele Shinaba as saying the attacks had been carried out by "two young girls in hijab [Muslim headscarves]".
"They came by the market and asked to be directed to a public convenience. The bombs detonated, killing them and four others," he said.
Abdullahi Abubakar, secretary of the market traders' syndicate, told the agency that the first bomber blew herself up near toilets at about 14:30 local time (13:30 GMT). The second attack took place shortly afterwards near another toilet block, he added.
Female suicide bombers have featured in previous Boko Haram attacks.
Trader Nura Sadiq told AFP: "I heard a huge sound coming from the back of my shop along Unity Road. I just closed the shop and tried to leave because it's not safe."
Kantin Kwari is the biggest textile market in Kano, where people from neighbouring states and other parts of the country come for transactions, the BBC's Habiba Adamu reports from the capital Abuja.
The market is always jam-packed with people, our correspondent adds.
On 28 November, more than 100 people were killed in an attack on the Central Mosque in Kano.
No group said it had carried out the attack but officials said it bore the hallmarks of Boko Haram.
The Sunni Islamist group has been waging an insurgency in Nigeria since 2009.
Boko Haram has taken control of a series of towns and villages in north-east Nigeria in recent months, and has vowed to create an Islamic state in those areas.
The authorities have struggled to defeat them.