Jacob Zuma's son Duduzane accused of road death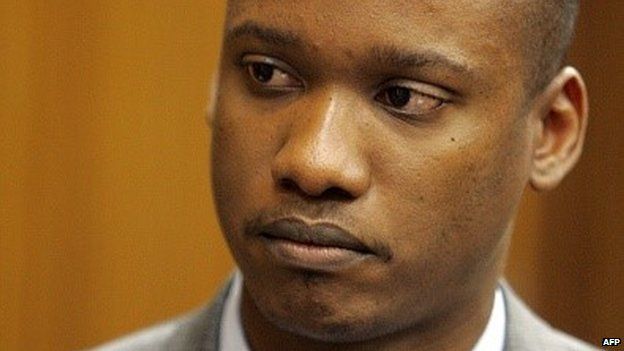 A South African inquest has found that President Jacob Zuma's son was negligent in a car accident which caused the death of a woman.
Prosecutors had initially ruled out charging him. They will now be under pressure to do so, correspondents say.
Duduzane Zuma's Porsche hit the back of a minibus in Johannesburg in February, killing the woman instantly.
The BBC's Pumza Fihlani in Johannesburg says the ruling shows that South Africa has an independent judiciary.
In a country with substantial inequality, the courts are one of the few places where South Africans become equals - and the president's son is no exception, she adds.
The president has 21 children and has married six times.
Mr Zuma, 30, told the inquest that he lost control of his car after driving into a puddle.
However, magistrate Lolita Chetty ruled that he did not behave in "a reasonable manner under the circumstances".
In July, the National Prosecuting Authority (NPA) declined to charge the 30-year-old businessman with culpable homicide, or manslaughter, saying there was insufficient evidence.
Three other people were injured in the accident.
NPA spokesman Nathi Mncube said prosecutors would study the magistrate's ruling.
Related Internet Links
The BBC is not responsible for the content of external sites.