Jos bomb attacks: 'Poor Nigerians need protection'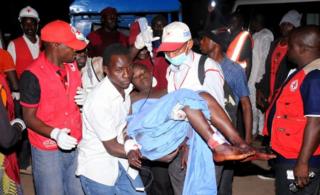 The archbishop of Jos in central Nigeria has said more must be done to protect ordinary people, after at least 30 were killed in twin bomb attacks.
Archbishop Ben Kwashi told the BBC that most of the victims were poor and defenceless.
Thursday's attacks on a crowded market have been blamed on Boko Haram.
The Islamist group has previously targeted churches and mosques in Jos, which has a mixed population of Muslims and Christians.
The Anglican archbishop said the bombers would not succeed in fomenting religious divisions in the city, as it was clear they did not represent Nigeria's Muslim population.
But he said ordinary people needed more protection.
"Government must step up, to show that it cares about the weak, about the poor, about those who have no means at all in the society."
Analysis: Will Ross, BBC Nigeria correspondent
If this was a Boko Haram attack (and everyone assumes all the bombings are theirs, despite only rare statements from the jihadist group), it is yet another with no specific target.
The purpose of this attack seemed to be to kill as many people as possible - hence the decision to hit a busy street in the centre of the city teeming with traders and customers.
In 2012 a series of bomb attacks on churches were believed to be aimed at fomenting religious tensions in this mixed and sometimes volatile city in Nigeria's Middle Belt.
But, just like the Abuja bombings earlier this year, this one would have killed Christians and Muslims who were just trying to go about their ordinary daily routine - people who have done nothing to defy or anger a group which has its own interpretation of Islamic law.
The latest twin bombings came as democracy was being celebrated with the opposition and governing parties calmly choosing their own candidates for February's presidential elections. The spilling of more blood in Jos is another stark reminder that whoever wins must do far more to tackle the Boko Haram insurgency.
The blasts targeted Jos's commercial district, near the Terminus bus station.
The first explosion took place at an outdoor food stand. The second blast hit the marketplace.
A similar attack in the same area of Jos in May killed more than 100 people.
Boko Haram militants are suspected of being behind the attacks. It has not yet commented.
The group has killed more than 2,000 people this year.
It has taken over several towns and villages in the north-eastern states of Borno and Adamawa, declaring the area under its control to be a caliphate.
On Wednesday, at least four people were reported killed and seven hurt in attacks by two female suicide bombers in Kano, the biggest city in northern Nigeria.
Thousands of people have died and more than a million have been forced from their homes in the Islamist group's five-year insurgency.