Central African Republic fighting kills at least 28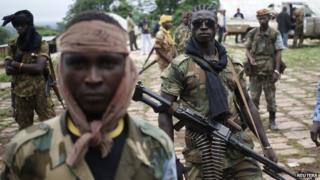 At least 28 people have been killed in new clashes between Muslim and Christian fighters in the Central African Republic, the Red Cross says.
The fighting broke out in the town of Mbres in the centre of the country on Tuesday and continued into Thursday.
Both sides have blamed each other for causing the latest violence.
Thousands of people have been killed in the past year in sectarian violence which has slowed but not stopped since a ceasefire was announced in July.
Local residents and police officials also confirmed the clashes.
"Violent clashes broke out on Tuesday in the centre of Mbres," a police official told AFP.
Christian fighters allege that the fighting started when a group of Muslims threw a grenade.
However, a spokesman for the Muslim fighters said his group was attacked first and then fought back.
Fighters from both sides then called in reinforcements and the fighting spread.
An official with the Red Cross aid organisation said 70 homes were also burned.
CAR's religious make-up
Christians - 50%
Muslims - 15%
Indigenous beliefs - 35%
Source: Index Mundi
Andrew Harding: Fighting spreads like an infection
The violence began when mainly Muslim rebels seized power in March last year.
The majority Christian state then descended into ethno-religious warfare.
Both sides have been accused of war crimes such as torture and unlawful killing.
The presence of some 7,000 international peacekeepers has failed to put an end to the violence and revenge attacks.