Chinese troops ready to join South Sudan UN force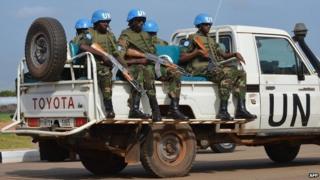 China has said 700 troops are ready to be deployed to South Sudan to bolster a UN force in the country, China's official Xinhua news agency reports.
It will be the first peacekeeping battalion to be deployed, it says.
On Sunday, a Chinese firm said it had signed a deal with South Sudan to increase its oil production.
It fell by about a third after conflict broke out a year ago, raising concern in China as it is heavily dependent on oil from the East African state.
---
Conflict in numbers:
At least 50,000 killed
About 1.9 million displaced
About 235,000 children suffer from acute malnutrition
About 2.5 million people risk severe food insecurity next year
About 180 health facilities destroyed or no longer functioning
Sources: ICG; Ocha
---
Xinhua reported that 180 troops would fly to South Sudan next month followed by the rest of the battalion in March.
A rally was held on Monday in the city of Laiyang in Shandong Province for the battalion, which would be equipped with drones, armoured infantry carriers, anti-tank missiles, mortars and other weapons for self-defence purposes, it said.
Meanwhile, the state-owned China National Petroleum Corporation (CNPC) said, in a statement, that it would use heavy oil recovery technologies in "stabilising and increasing crude output" following the deal signed with South Sudan's government.
---
China's oil fears over South Sudan
---
Oil accounts for more than 90% of South Sudan's foreign revenues.
Its oil-producing regions have seen some of the worst fighting since President Salva Kiiir accused his sacked deputy, Riek Machar, of plotting a coup last December.
Mr Machar denied the allegation but then marshalled a rebel force to fight Mr Kiir's government.
International mediation efforts to end the conflict have failed.
The UN has more than 11,000 peacekeepers in South Sudan, which became independent in 2011 after breaking away from Sudan.