Zimbabwe plan to sell elephants from Hwange defended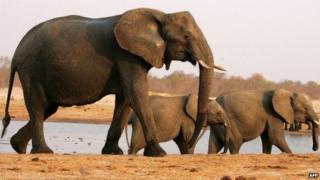 Zimbabwe has defended plans to sell elephants for up to $40,000 (£26,000) each, saying it needs the money to run its biggest game reserve.
An official said more than 60 elephants could be sold to buyers in China, France and the United Arab Emirates.
Last month, a campaign group condemned the plan as inhumane.
Some groups fear that African elephants could become extinct because of an increase in poaching.
Geoffreys Matipano, conservation director at Zimbabwe Parks and Wildlife Authorities, said the money raised could help meet the $2.3 million annual running costs of the Hwange National Park, Bloomberg news agency reports.
'Stealing natural resources'
"We are pursuing it aggressively as part of conservation efforts because we have plenty of elephants here," he is quoted as saying.
"We don't receive state funding and we rely on selling animals for our day to day operations. We are nowhere near what we want," he added.
The money would also help fight poachers, Mr Matipano said.
Last year 293 elephants were killed by poachers using cyanide poisoning, and this year 139 have been killed, he said.
Mr Matipano said buyers from France were seeking 15 elephants, China 27 and UAE 15. He did not name the buyers.
Last month, the Zimbabwe Conservation Task Force (ZCTF) campaign group said it had received "very disturbing reports of animals being captured" in the popular Hwange National Park for export to China.
They included 34 baby elephants, seven lions and about 10 sable antelopes, it said.
"Why is Zimbabwe stealing from the future generation's natural resources? The baby elephants quite likely won't survive the trip and the only crime they have committed is being born in Zimbabwe," the ZCTF said in said in a statement.
"They are now being sentenced to a life of inhuman treatment. This is very traumatic, not only for the baby elephants but also for their families," it added.