Libya violence: Militants kidnap Coptic Christians in Sirte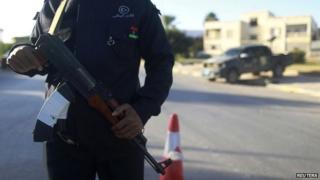 Masked gunmen in northern Libya have kidnapped 13 Coptic Christian workers from Egypt, just a week after seven others were abducted.
Eyewitnesses in the city of Sirte said suspected Islamist militants went to a residential compound late at night and asked to see identification papers.
Christians were then separated from the Muslims before reportedly being handcuffed and kidnapped.
It is the latest in a series of attacks on Egyptian Christians in Libya.
One witness said 15 masked gunmen went from room to room in the residential complex at about 02:30 local time (04:30 GMT) on Saturday morning.
"They had a list of full names of Christians in the building. While checking IDs, Muslims were left aside while Christians were grabbed," Hanna Aziz told the AP news agency.
Mr Aziz said he survived because he heard his friends screaming and didn't open his door. "I am still in my room waiting for them to take me. I want to die with them,"
All of those taken are believed to be men.
The incident came just a few days after seven other Coptic Christians from Egypt were reportedly abducted at a fake checkpoint in Sirte as they tried to leave the city.
There was also an attack on the home of an Egyptian Coptic doctor in Sirte in early December, in which he and his wife were killed. Local reports said the couple's daughter was also found dead after being abducted.
Libya is home to a very large community of both Muslim and Coptic Egyptians, with most working in the construction sector.
The country has been plagued by instability and infighting since the toppling of Colonel Muammar Gaddafi in 2011.
Rival militias now control most of the country including the two largest cities, Tripoli and Benghazi, and Sirte has become a safe haven for Islamist fighters.