Nairobi flights halted after plane crash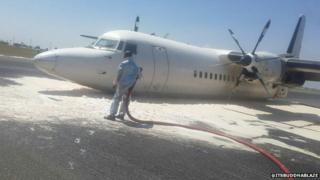 Flights into Kenya's main airport have been suspended after a passenger plane crash-landed on the runway in the capital Nairobi.
No deaths or injuries have been reported at Jomo Kenyatta International Airport on Sunday.
The Kenyan Airports Authority said the Fokker 50 turboprop plane carrying six people had touched down on its belly after the landing gear failed.
All flights into Nairobi were being diverted to the port city of Mombasa.
Later on Sunday, airport officials said that the plane had been removed and the runway reopened.
The aircraft had been flying from the north-eastern town of Wajir when it made the emergency landing.
The Jomo Kenyatta airport is one of the busiest airports in east and central Africa, acting as an important transport hub for both passengers and goods across the continent.
It serves a daily average of 19,000 passengers from Africa, Europe and Asia, according to the Kenyan Airports Authority.
A huge fire caused by an electrical fault forced it to close for several days in August 2013.