LRA rebel Dominic Ongwen surrenders to US forces in CAR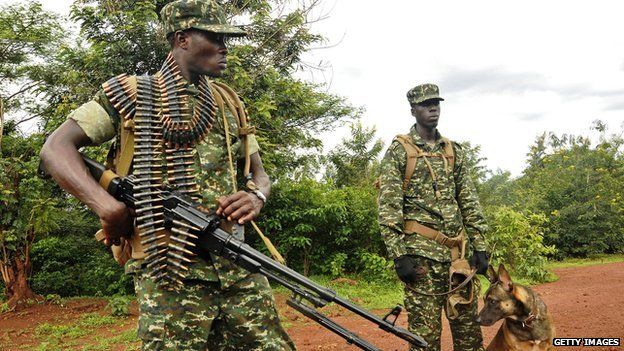 Uganda's military has confirmed that a senior commander in the rebel Lord's Resistance Army (LRA) movement has been taken into custody by US forces.
The army spokesman told the BBC that soldiers had visited Dominic Ongwen, who was being held in the Central African Republic, to identify him.
The International Criminal Court (ICC) wants to put Mr Ongwen on trial for war crimes and crimes against humanity.
But the Ugandan government has said it would prefer to try him at home.
Government spokesman Ofwono Opondo told the BBC that Mr Ongwen should be in Uganda by the end of the week, when he would be charged.
The LRA has abducted thousands of children in northern Uganda, and neighbouring countries, forcing the boys to become fighters and the girls to become sex slaves.
The US first deployed about 100 special forces in 2011 to support thousands of African troops searching for LRA commanders.
Dominic Ongwen is considered by some to be a deputy commander to LRA chief Joseph Kony.
Said to have been abducted by LRA, aged 10, as he walked to school in northern Uganda
Rose to become a top commander
Accused of crimes against humanity, including enslavement
ICC issued arrest warrant in 2005
Rumoured to have been killed in the same year
US offered $5m (£3.3m) reward for information leading to his arrest in 2013
The Seleka rebel group in the Central African Republic (CAR) said it had captured Mr Ongwen during a battle near the eastern town of Sam Ouandja earlier this month, AFP reports.
"[He] wanted to escape but he came into the hands of our second team who arrested him," it quotes a Seleka commander, Mounir Ahmat, as saying.
Earlier, US State Department spokeswoman Jen Psaki said a man who identified himself as an LRA defector had surrendered to US forces.
"If the individual proves to be Ongwen, his defection would represent a historic blow to the LRA's command structure," she told reporters in Washington.
Lt Col Paddy Ankunda told the BBC that Ugandan soldiers had confirmed Mr Ongwen's identity after visiting him in the town of Obbo in eastern CAR.
Of the top five LRA commanders for whom the ICC had issued arrest warrants, only two - Joseph Kony and Okot Odhiambo - remain at large, rights group Amnesty International said in a statement.
It called for Mr Ongwen to be held to account for the alleged crimes of murder, mutilation, forced recruitment of child soldiers and use of sex slaves
Although Uganda would prefer Mr Ongwen to face justice at home, the government spokesman said it would liaise with the ICC, the African Union and UN on where the case would be heard.
Uganda's President Yoweri Museveni has been very critical of the ICC recently, accusing it of unfairly targeting African leaders.
He had originally asked the ICC to investigate the LRA.
Mr Ongwen, who claims he joined the rebels' ranks when snatched as a child, is said to have commanded the Sinia Brigade which has been blamed for some of the worst atrocities the group carried out in northern Uganda, where the LRA began its rebellion more than two decades ago.
Its estimated 200-500 fighters have since terrorised large swathes of the Democratic Republic of Congo, South Sudan and the CAR.
Joseph Kony has said the LRA is fighting to install a government in Uganda based on the Biblical Ten Commandments.
Related Internet Links
The BBC is not responsible for the content of external sites.