Boko Haram crisis: Niger 'will not help retake' town of Baga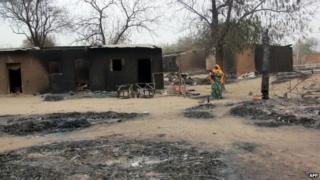 Niger has said it will not be involved in attempts to retake the key north-east Nigerian town of Baga from the militant Islamist group, Boko Haram.
Bodies reportedly lay strewn on the streets of the town following an assault by the Islamists on Wednesday, with hundreds feared killed.
The town is near the border with Chad and had housed a military base staffed partly by multinational forces.
Soldiers from Niger had been there but were not present when it was attacked.
Nigerian officials say government troops backed by air strikes have now begun an effort to recapture Baga.
A government spokesman said the security forces were "actively pursuing the militants" but gave few further details. There has been no independent confirmation of the extent of any clashes or casualties.
'Impunity'
The BBC's Nasidi Yahaya in Abuja says the decision of Niger to abandon Baga is a big blow to Nigeria, which had said that the presence of a multinational task force in the area would help defeat Boko Haram.
The withdrawal of troops from Niger means Nigeria's neighbour now has no forces directly involved in tackling Boko Haram.
Chad has also withdrawn its forces.
Nigerian officials told the BBC that almost all of Baga had been set on fire in the militant attacks.
Niger Foreign Minister Mohamed Bazoum told the BBC Hausa service: "We have 50 soldiers there and decided to withdraw them after Boko Haram captured Malamfatori town in October and continued to operate in the area with impunity.
"As you know, Baga is under [the control of] Boko Haram terrorists and unless the town is recaptured from them, we will not send back our troops.
"But we are still determined to work with our neighbours Cameroon, Chad and Nigeria to contain the situation - it is a problem for us all."
'Burnt down'
A separate French-led initiative called for all four West African countries to contribute 700 troops each to a multinational force against Boko Haram, but no country has implemented the plan.
Niger has blamed Nigeria, saying it has not kept to commitments regarding its own troop levels.
Civilians who fled from Baga this week reported that they had been unable to bury the dead. Corpses littered the town's streets, said Musa Alhaji Bukar, a senior government official in the area.
---
Boko Haram at a glance
Founded in 2002
Initially focused on opposing Western education - Boko Haram means "Western education is forbidden" in the Hausa language
Launched military operations in 2009 to create Islamic state
Thousands killed, mostly in north-eastern Nigeria - also attacked police and UN headquarters in capital, Abuja
Some three million people affected
Declared terrorist group by US in 2013
Profile: Boko Haram leader Abubakar Shekau
Why Nigeria has not defeated Boko Haram
---
He said the town, which had a population of about 10,000, had been "burnt down" and was now "virtually non-existent".
Boko Haram launched a military campaign in 2009 to create an Islamic state.
It has taken control of many towns and villages in north-east Nigeria in the past year.
The conflict has displaced at least 1.5 million people, while more than 2,000 were killed last year.
Drowned
Mr Bukar raised fears that as many as 2,000 people may have been killed in Boko Haram's latest raids alone; other reports put the number of dead in the hundreds.
About 10,000 people are reported to have fled to Chad since Saturday.
Nigerian President Goodluck Jonathan declared a state of emergency in Borno and two neighbouring states in 2013, vowing to defeat the militants.
Boko Haram has stepped up attacks since then and there are concerns that many people in the north-east will be unable to vote in the next general election because of the conflict.