Nigeria violence: Female suicide bombers hit market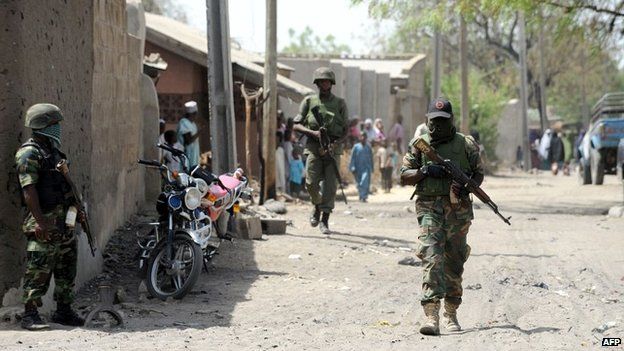 Two female suicide bombers struck a crowded market in north-east Nigeria on Sunday, killing at least four other people and injuring dozens.
An eyewitness in the city of Potiskum, in Yobe state, told the BBC that the second bomb went off shortly after the first, hitting those helping victims.
On Saturday, a bomb strapped to a girl aged around 10 killed at least 19 people in Maiduguri, in Borno state.
The attacks come amid an offensive by Boko Haram militants in the region.
A doctor at the scene in Potiskum said he saw the remains of suicide belts on the two women, who looked to be in their early 20s.
A security official told AFP news agency that it appeared the bombs had been remote-controlled.
"The second bomber was terrified by the explosion and she tried to dash across the road but she also exploded," he said.
No group has said it carried out the attack but the BBC's Will Ross in Lagos says Islamist group Boko Haram have used female suicide bombers in the past.
The violence in north-east Nigeria has been relentless in recent weeks, our correspondent adds.
Last week, people fleeing the town of Baga said several hundred people were killed there by Boko Haram gunmen in recent days.
Scores of bodies from that attack - described by Amnesty International as possibly the "deadliest massacre" in the history of Boko Haram - are reported to remain strewn in the bush.
The UN children's agency said reports from survivors of the Baga attack and the use of a young girl as a suicide bomber in Maiduguri "should be searing the conscience of the world".
"Words alone can neither express our outrage nor ease the agony of all those suffering from the constant violence in northern Nigeria," UNICEF executive director Anthony Lake said in a statement.
"But these images of recent days and all they imply for the future of Nigeria should galvanise effective action. For this cannot go on."
Boko Haram militants have been fighting to establish an Islamic caliphate in the north-eastern states of Borno, Yobe and Adamawa, which have borne the worst violence in their five-year insurgency.
The group has taken control of many towns and villages in north-eastern Nigeria over the past year.
The conflict has displaced at least 1.5 million people, while more than 2,000 were killed last year.
Founded in 2002
Initially focused on opposing Western education - Boko Haram means "Western education is forbidden" in the Hausa language
Launched military operations in 2009 to create an Islamic state
Thousands killed, mostly in north-eastern Nigeria - also attacked police and UN headquarters in capital, Abuja
Some three million people affected
Declared terrorist group by US in 2013