Boko Haram crisis: Nigerian archbishop accuses West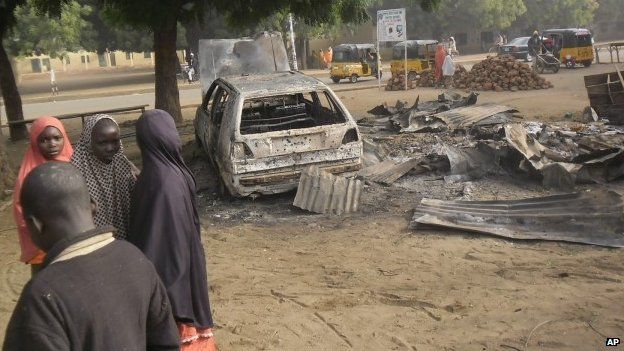 The Catholic Archbishop of Jos, in central Nigeria, has accused the West of ignoring the threat of the militant Islamist group, Boko Haram.
Ignatius Kaigama said the world had to show more determination to halt the group's advance in Nigeria.
He said the international community had to show the same spirit and resolve it had done after the attacks in France.
His warning came after 23 people were killed by three female suicide bombers, one reported to be 10 years old.
The weekend attacks come after reports that hundreds of people were killed last week during the capture by Boko Haram of the town of Baga in Borno state.
In the neighbouring country of Cameroon, the military said it had repelled an attack by Boko Haram insurgents on one of its northern bases.
A military source told the BBC that the insurgents had come in over the Nigerian border. In the exchange of gunfire, the army says one soldier and several insurgents were killed.
"It is a monumental tragedy. It has saddened all of Nigeria. But... we seem to be helpless. Because if we could stop Boko Haram, we would have done it right away. But they continue to attack, and kill and capture territories... with such impunity," he said.
The UN Secretary-General, Ban Ki-Moon, said he was appalled by reports of the killings in Baga and condemned what he called "the depraved acts of Boko Haram terrorists".
The Nigerian military has said it is trying to retake the town but has given few details about the operation.
On Saturday, it said it had successfully fought off Boko Haram fighters trying to capture another major north-eastern town, Damaturu.
By Will Ross, BBC News, Lagos
The violence is relentless and increasingly shocking. If it is true that a 10-year-old girl carried the explosives which killed at least 19 people in Maiduguri on Saturday, it throws up a list of unanswerable questions. For example, was the girl aware of what she was doing? Was she drugged or brainwashed and did she trigger the bomb or was it done remotely?
Sometimes Nigeria's military has recorded successes. It managed to prevent the jihadists from taking over the Yobe state capital Damaturu on Friday night - the gun battle lasted for hours.
But the military faces a mountainous task trying to protect civilians from the bombers and gunmen who are spread over a large area of the north-east and although officials don't like to hear it, they have often been overpowered and failed to protect civilians.
The world is slowly waking up to express shock at the latest violence but beyond condemnation and limited help with training, it seems there is little or no appetite to become more deeply involved in this conflict.
On Sunday, two female suicide attackers killed four people and injured more than 40 people in the town of Potiskum.
A day earlier, another young female suicide bomber, reported to be 10 years old, struck in the main city of north-east Nigeria, Maiduguri, killing at least 19 people.
Archbishop Kaigama said facing down Boko Haram required international support and unity of the type that had been shown after last week's militant attacks in France.
"We need that spirit to be spread around," he said. "Not just when it [an attack] happens in Europe, but when it happens in Nigeria, in Niger, in Cameroon.
"We [must] mobilise our international resources and face or confront the people who bring such sadness to many families."
In June, Britain said it would increase its military and educational aid to help Nigeria tackle Boko Haram.
The aid includes counter-insurgency training for troops, which is also being provided by the US military.
However, Nigeria has criticised the US for refusing to sell it weapons because of alleged human rights abuses committed by Nigerian troops.
Jos, where the archbishop is based, has a mixed population of Muslims and Christians and has faced attacks by Islamist militants, although it is some distance from Boko Haram's strongholds.
Last month more than 30 people were killed in twin bomb attacks on a market there.
Churches have also been targeted in what are believed to be attempts by the militants to foment religious tension.
A French-led initiative has called for Nigeria, Niger, Cameroon and Chad to contribute 700 troops each to a multinational force against Boko Haram, but no country has implemented the plan.
Niger has blamed Nigeria, saying it has not kept to commitments regarding its own troop levels.
Founded in 2002
Initially focused on opposing Western education - Boko Haram means "Western education is forbidden" in the Hausa language
Launched military operations in 2009 to create Islamic state
Thousands killed, mostly in north-eastern Nigeria - also attacked police and UN headquarters in capital, Abuja
Some three million people affected
Declared terrorist group by US in 2013