Zimbabwe court halts evictions blamed on Grace Mugabe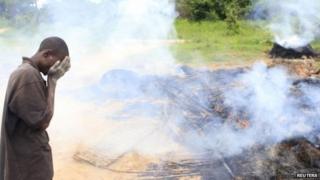 Zimbabwe's High Court has ordered a halt to the eviction of farmers who claim they have been targeted to make way for a game park proposed by First Lady Grace Mugabe.
Police have been demolishing homes of more than 200 families who had occupied land seized under the government's controversial land reform programme.
The government has denied that Mrs Mugabe is linked to the evictions.
She entered politics last year, and holds a top post in the ruling party.
'Name abused'
The court ruled that the evictions were illegal and the farmers could not be forced out without being provided with alternative land.
Lawyers for six of the farmers brought the case against the police and the ministry of land and home affairs - not Mrs Mugabe, reports the BBC's Brian Hungwe from the capital, Harare.
However, the farmers say that the police told them that Mrs Mugabe was behind the evictions wanting to use the prime agricultural land in Mashonaland Central province for a game park.
The farmers occupy Arnold Farm - also known an Manzou Farm - near a dairy farm owned by Mrs Mugabe and an orphanage that she set up.
"The police compared us to ants saying, 'There's no way an ant can fight an elephant because Amai (Mrs) Mugabe is a high profile person and you're ordinary citizens,'" one of farm residents, Aspinias Makufa, told the BBC.
Last week, government minister Martin Dinha said Mrs Mugabe was being unfairly blamed for the evictions.
"This business of abusing the name of the first lady, her privacy and integrity must come to an end," he was quoted by the state-owned Herald newspaper as saying.
Mr Dinha said the land occupied by the families had been designated a national monument in memory of Ambuya Nehanda, a leading figure in the 1896 rebellion against colonial rule.
---
Grace Mugabe:
Began affair with Robert Mugabe, 41 years her senior, whilst working as a typist in state house
Mr Mugabe later said his first wife Sally, who was terminally ill at the time, knew and approved of the relationship
Married Mr Mugabe, her second husband, in 1996 in an extravagant ceremony. They have three children
Nicknamed "Gucci Grace" by her critics who accuse her of lavish spending
Along with her husband, is subject to EU and US sanctions, including travel bans
Praised by supporters for her charitable work and founding of an orphanage
Received a PhD in September 2014, a month after being nominated to takeover the leadership of the Zanu-PF women's league
---
A farmer targeted for eviction, Stella Nicks, 61, told the BBC she had lived on the farm for the past decade, after seizing it from a white farmer.
"I'm a strong Zanu-PF supporter and now my party has betrayed me," she said.
Opposition leader Morgan Tsvangirai has criticised the evictions, saying the time had come "to call Grace to order".
Mrs Mugabe was elected as head of the ruling Zanu-PF party's women's wing in December.
Her rise to political prominence fuelled speculation that she harboured ambitions to succeed President Robert Mugabe, when he retires or dies.
Mr Mugabe, 90, has ruled Zimbabwe since independence in 1980.