Zambia votes in presidential elections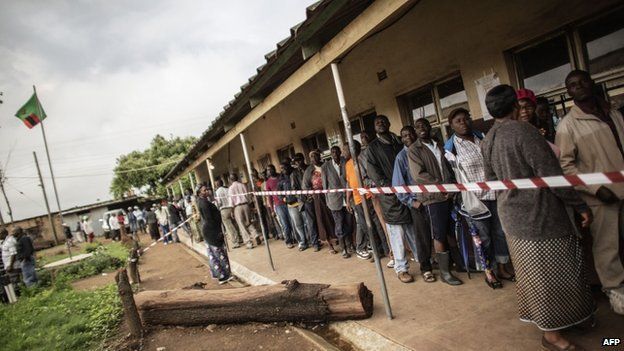 Zambians have been voting in a presidential election caused by the death of Michael Sata last year.
The vote is expected to be a close contest between Edgar Lungu from the governing Patriotic Front and Hakainde Hichilema from the United Party for National Development.
The BBC's Nomsa Maseko in Lusaka says candidates have vowed to improve the education system and create jobs.
The winner will serve out the remaining 18 months of Michael Sata's term.
Zambia is due to hold a general election in 2016.
In the Lusaka suburb of Kanyama, a crowd of voters applauded when a presiding officer declared the polling station open.
However, 160 polling stations failed to open because of bad weather, the election commission said.
Zambia's 5.2 million eligible voters were due to cast ballots at 6,000 polling stations.
At the scene: Nomsa Maseko, BBC Africa, Lusaka
It has been raining in most parts of Zambia, definitely not a day for your best shoes. Some voters came prepared, armed with umbrellas and rain coats while others were forced to run for cover when the downpours got heavier.
But the weather did not deter Zambians who queued quietly from the early hours to elect Michael Sata's successor. Most polling stations are not easily accessible by road in rural areas and, as a result, the Zambian Air Force is on full alert to assist in getting voting material to them.
Regional observers have voiced concerns about voter turnout not only because of the rain but also voter fatigue. At stake are the remaining 18 months of Mr Sata's five-year term. But whoever wins this time around will also be eyeing the top post in the 2016 election.
Local food trader Grace Nyirongo, a voter in Kanyama, said she was satisfied with the government.
"We want the government to continue with the projects started by Sata. Frankly there's no need to start afresh," she said.
But vegetable seller Matron Siyasiya said her vote was "going to make a difference, we are going to remove this...(PF) family".
The Patriotic Front held its final rally in a suburb of Lusaka on Monday as campaigning drew to a close.
Correspondents said the party has been presenting a united front following some bitter infighting over its candidate.
Interim President Guy Scott, who was a close ally of the former president, told supporters that "Michael Sata is still the spirit behind this party".
Mr Scott - a white Zambian of Scottish descent - was barred from contesting the election himself because his parents were not born in Zambia.
Mr Lungu has portrayed himself as a candidate for continuity and has said he wants to complete economic development projects initiated by Mr Sata.
His closest rival, the economist and opposition leader Mr Hichilema, says he has the experience necessary to revamp Zambia's economy.
Correspondents say the election campaign has been largely peaceful.
However, electoral commission chairwoman Irene Mambilima said she had "noted with dismay" some violent incidents.
In a nationwide address on Monday night, Mr Scott vowed to crack down on any post-election violence.
Polling stations opened at 06:00 (04:00 GMT) and will close at 18:00.
The electoral commission said that counting of the ballots should begin shortly after polls close with results due to be announced within 48 hours.
Michael Sata, who was Zambia's fifth president, died in London last October at the age of 77.