Ghana government websites targeted by hackers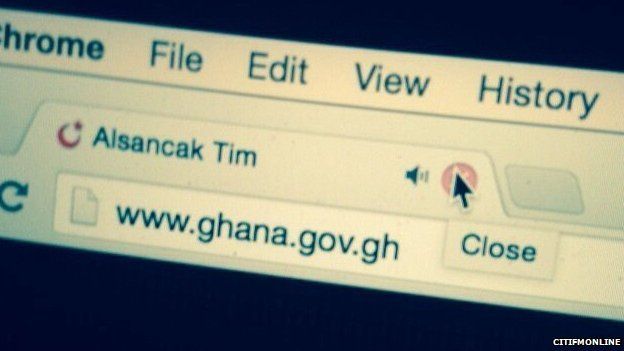 The majority of the Ghanaian government's websites, including its main site, have been hacked and are currently offline.
A message reading "Hacked by Alsancak Tim" appeared on the sites.
On its social media accounts, Alsancak Tim describes itself as a nationalist Turkish hacker group.
The deputy communications minister said experts were working to restore the websites by the end of the day and were investigating who was behind it.
On the Facebook page of the Alsancak Tim group, which uses the tag line "injustice, oppression and war with all our might", there is a list of 11 Ghanaian websites that it says it has hacked.
The BBC's Sammy Darko in the capital, Accra, says it is not the first time a Ghanaian government website has been hacked.
The ministry of justice's website was hijacked by those sympathetic to Argentina during a row in 2012 about a frigate.
The Argentine vessel had been impounded in Ghana after a financial fund said it was owed money by Argentina's government as a result of a debt default.
In the same year, two private banks in Ghana were hacked simultaneously, our reporter says.
US President Barack Obama in his annual State of the Union address to Congress on Tuesday mentioned the need for stronger cybersecurity.
Last week, the US army's Central Command Twitter account and YouTube channel were hacked by a group claiming to be associated with the Islamic State militant group.