Jackie Selebi, convicted South African ex-police chief, dies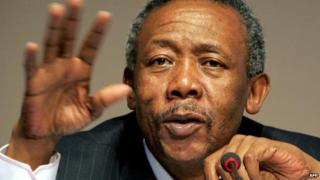 South Africa's disgraced former police chief Jackie Selebi has died aged 64.
Selebi was convicted of corruption in 2010, and sentenced to 15 years in jail, but was paroled on medical grounds less than a year after beginning his sentence.
He was said to have had a stroke, and suffered kidney problems and diabetes.
He had been in an induced coma for "about two-and-a-half weeks" and died overnight, his friend Schabir Shaik told Eyewitness News.
His death was confirmed by his lawyer and officials from the ruling African National Congress and correctional facilities.
Selebi was convicted of taking bribes from drug smuggler Glenn Agliotti, but was paroled only 229 days after beginning his jail term in 2011 - triggering complaints that he had been given preferential treatment due to his political connections.
Selebi also served as head of Interpol and was one of the highest ranking ANC officials to be convicted of corruption.
To the bemusement of some on Twitter, a user thought to be Glenn Agliotti tweeted his condolences to Selebi's wife Anne and his family.
---
Analysis: Milton Nkosi, BBC News, Johannesburg
Jackie Selebi's life shows how one can completely undo a tremendous amount of work built up over decades with corruption.
In the 1980s he was a much loved history teacher at the ANC's Solomon Mahlangu Freedom College (aka Somafco) in Morogoro Tanzania.
His students, who were in exile from the brutality of the apartheid security forces, told me of their love for him. He had a great sense of humour. He would crack jokes to catch the attention of his class.
One of his favourite lines was to tell those who seemed to be day-dreaming in class: "Wake up - you are sitting there like a dignified baboon."
He headed the ANC repatriation committee, whose task was to prepare a soft landing back home for those who had taken to the bush to fight apartheid.
Mr Selebi rose through the ranks and became head of Interpol.
But now all we can think about is how he disgraced the police by taking a bribe from a convicted drug dealer.
It's a good lesson for those in positions of power to think about their place in history before they take a brown envelope in return for state favours.