Burundian army accused of murdering rebels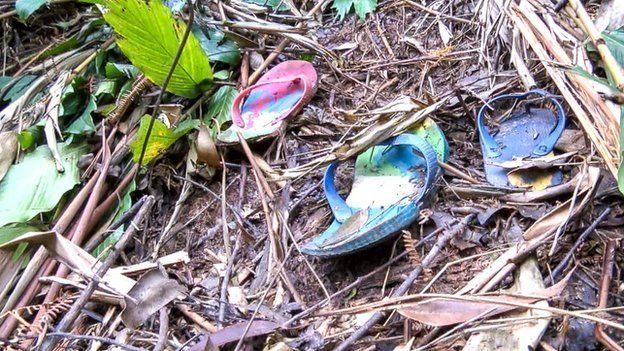 Burundian soldiers shot dead 17 rebels at point-blank range after they surrendered in January, witnesses have told the BBC.
The rebels, with hands raised, were lined up on the edge of the cliff before being killed, one witness said.
Burundi's army denied the allegation, saying 95 rebels were killed in a five-day battle in the remote north-west.
Low-level conflict has resurfaced in Burundi about a decade after a civil war which killed more than 300,000.
It is unclear who the new rebels are, but the government says they are linked to the opposition and have bases across the border in the Democratic Republic of Congo.
The violence comes at a crucial time as Burundi is due to hold parliamentary and local elections in May and presidential elections the following month.
There is intense speculation that President Pierre Nkurunziza, who won elections at the end of the civil war in 2005, plans to run for a third term.
The peace accord that ended the conflict states there is a two-term limit, but some argue the constitution is open to interpretation.
In January, army spokesman Colonel Gaspard Baratuza said 95 rebels had been killed in the fighting in Cibitoke province.
The violence appeared to be an attempt to derail elections, he said at the time.
When I visited the area to investigate the conflict, villagers disputed the official version.
"I saw 17 rebels surrender to the army in Kibindi on 2 January," one man said, asking not to be identified for fear of reprisals.
"They came holding their weapons above their heads and the soldiers told them to come closer, to lay their weapons down and then lined them up along the edge of a cliff," he added.
The soldiers then formed a line as well, and opened fire on the rebels, he said.
"The insurgents fell off the cliff... Many villagers were watching when this happened, including children."
The narrow valley where this allegedly took place is about a 30-minutes' walk from the main road - an area hidden by trees. Near the edge of valley there were bits of clothing, shoes and bullets scattered on the ground.
We slide down to reach the bottom and there we saw more clothes, stray bullets and a bullet case.
A few meters away, there a pile of recently dug earth that reeked - looking like a mass grave.
Another witness told me that a local official ordered villagers to bury the rebels there.
"I saw bodies scattered, half naked, covered in blood. I counted 15," he said.
Those who were still alive were killed in front of him with machetes by young men from Imbonerakure, the ruling party's youth wing, the witness said.
Prominent Burundian rights activist Pierre Claver Mbonimpa says he has been receiving "more and more detailed reports of executions, and burials of dozens of rebels in mass graves".
"A lot of rebels are thought to be buried in an area called Kibindi, near the village of Mpinga. Probably 40 people. A lot are thought to have been executed there are well," he added.
Col Baratuza insists the rebels were killed in a "real fight".
"I can't say that it was a football game. It was fighting," he said.
If people had proof that extra-judicial executions were carried, they should forward it to the army for investigation, Col Baratuza said.