Fana Mokoena's dilemma: Interstellar or revolution in South Africa?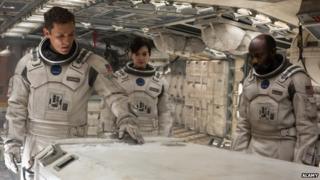 Can you save the world, and still keep your day job? I remember Bob Geldof grumbling about that conundrum to me a decade ago in a dusty corner of Ethiopia.
Now South African actor Fana Mokoena is facing a similar dilemma.
If you've watched World War Z, you may remember him as the deputy UN secretary-general, plotting ways to eliminate zombies and save Brad Pitt.
He was also in Mandela: Long Walk to Freedom, Safe House and Hotel Rwanda.
But now he's had to put his Hollywood dreams on hold - and has just missed out on what might have been the biggest role of his career.
"I was supposed to be in Interstellar, with Christopher Nolan. I was going to play the scientist. I forget his name. We were in talks about me taking the role, and then this came up," said Mr Mokoena with a faraway look in his eyes.
The "this" he is referring to is a new job as an MP for South Africa's newest, brashest political party - the Economic Freedom Fighters (EFF).
"It's a huge sacrifice," Mr Mokoena said of the experience of watching the plum Interstellar role of the worm-hole astronaut Romilly - trapped in a spaceship for 23 years waiting for Matthew McConaughey and Anne Hathaway to get back from a nearby plant - slip through his fingers and go instead to British actor David Gyasi.
"I spoke to my agent and I said: 'Listen there's going to be a problem.' But [the EFF] is kind of important for me - it's history," he said resolutely.
We met in an office block near the centre of Johannesburg, where the EFF has just taken up residency, and where Mr Mokoena was filling in as acting spokesman for the party, and media handler for the its famously outspoken "Commander-in-Chief" Julius Malema.
Regular income
Mr Mokoena told me it had been a "wrench" to leave the governing African National Congress to join the breakaway party, but: "I'd been very critical of the trends in the ANC - the corruption and that kind of nonsense. So I decided I couldn't be part of it."
Compensation has come in the form of a generous MP's salary, which Mr Mokoena said was less than he made as an actor.
"But it's all right. It's cool. The banks take you seriously because you're earning more regularly."
And there's the satisfaction of being part of a cause he believes in - as the EFF prepares to expand its controversial "land occupation" programme across the country.
"Land occupation is protest action - not land grabs. Not like Zimbabwe," said Mr Mokoena, with vigor.
"Land is a huge issue, not just in South Africa. Africans just don't own land and this is a huge problem. The African is still not in control of the means of production - mines and so forth - 60 or 70 years down the line. The geography of the economy hasn't changed. We need land.
"The funny thing is, that in South Africa white people are beginning to understand the message - that we need to share. Everybody needs to share. The fact that 70% of the land is sitting in the hands of 20% of the population, is not viable, not even economically," he continued.
Different kind of performance
"The support we seem to be getting from people is huge. Membership is growing. When we audited last year we had close to 500,000... We're also solidifying [party] structures," Mr Mokoena said.
In the meantime, he is trying to keep his acting skills honed with one or two small roles a year. He is off to Canada soon for two weeks with a theatre production.
As for performing in parliament - "I've made speeches but [acting experience] doesn't help at all. In fact it probably kills it. It's a different world."
Meanwhile, senior ANC officials have branded the EFF as a threat to democracy, and - in what Mr Mokoena suspects is a related development - the often-ANC-aligned national broadcaster, SABC, has stopped offering him acting jobs.
"I don't get any work from the SABC any more," he said, claiming an "insider" had told him he was being blacklisted because of his EFF connections.
But Fana Mokoena is still optimistic that Hollywood will come calling in the future.
"You know, I'm hoping there'll be more coming. I don't think I've died in the [film] industry. I'll go back, and rehash, and rebuild," he said.